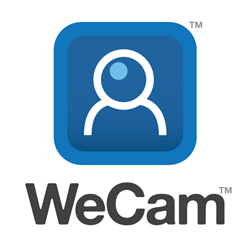 We are very excited to launch WeCam at a time of such heightened interest in online chat applications.
San Fransisco, California (PRWEB) March 26, 2014
WeCam Inc. announced today the launch of its socially-integrated WebRTC video chat application that lets users discover and connect with like-minded people anywhere in the world.
The WeCam™ application lets users connect with Facebook, Twitter or Google+ and uses its patent-pending matching algorithm to sort through social media data to find compatible matches across social networks. Advanced search features also let users sort by age, gender, relationship status, location and interests, so you can find exactly who you're looking for quickly and easily. WeCam™ also boasts location-aware features that let users see who's online and who's nearby at any given time. Future releases will include the ability to connect additional social networks and video calling for up to 4 users on one screen.
Unlike other chat applications, WeCam™ offers a host of innovative features leveraging OpenTokTM, a real-time video communications platform from TokBox Inc., a division of Telefónica Digital. "WeCam™ was established to be a leader in the space of mobile video calling and communications using WebRTC," says WeCam Inc. President and CEO, Rob Whent. "We have made investments over the last year that have resulted in a world-class product. The choice to utilize WebRTC and the OpenTok™ platform to power our app has proved to be invaluable."
"We are very excited to launch WeCam™ at a time of such heightened interest in online chat applications. A location aware, socially integrated app that lets users connect with video via a cross-platform app is the future of video calling," says company President and CEO Rob Whent. "We've created an application that combines simplicity, state-of-the-art features, privacy, advanced search functions and most importantly, a place where like-minded people can easily connect and discover the joy of video chat."
The WeCam™ app is free to download and is available worldwide through the App Store and Google Play immediately. The app supports devices running iOS version 7.0 and above and Android Version 4.0 and above.