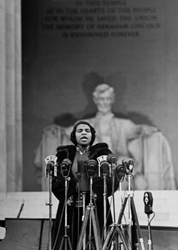 Washington, DC (PRWEB) March 28, 2014
On April 12, 2014, one of the nation's leading independent arts producers and recent recipient of the National Medal of Arts, Washington Performing Arts Society (WPAS), will celebrate the 75th anniversary of Marian Anderson's groundbreaking Easter Sunday performance at the Lincoln Memorial, a landmark moment in the Civil Rights movement, with an all-star concert hosted by Jessye Norman, the celebrated American soprano and longtime friend of WPAS and of Ms. Anderson.
Ms. Norman will be joined by, among others, Dionne Warwick, the vocal group 3WB (brothers Marvin, Carvin, and BeBe Winans), composer Dr. Ysaye Barnwell, actor Malcolm-Jamal Warner, journalist Wolf Blitzer, opera singers Soloman Howard and Alyson Cambridge, American Idol winner Candice Glover, vocalist Annisse Murillo, and an extraordinary choir of nearly 300 voices led by WPAS Gospel Choir Artistic Director Stanley Thurston to tell Anderson's story through music, words and images, tied together with a narrative by Tony Award-winning playwright Murray Horwitz (Ain't Misbehavin').
Inspired by both her towering artistic achievements and deep humanitarianism, the program draws on music from the classical and African-American spiritual repertoire that defined Anderson's career. The program includes the world premiere of a WPAS-commissioned choral work by D.C. music luminary Dr. Ysaye Barnwell (Sweet Honey in the Rock) that will be performed by the WPAS Men, Women, and Children Of The Gospel Choir and singers from 20 D.C.-area choirs, including:
Cantigas
Alfred Street Baptist Church
Choral Arts
Children's Chorus of Washington
Heritage Signature Chorale
Gay Men's Chorus of Washington
City Choir of Washington
Washington Chorus
Washington Master Chorale
Cathedral Choral Society
The musical selections are woven into a narrative penned by Murray Horwitz, plus archival footage, images and contemporary video tributes. A culminating event in WPAS's ongoing cultural and educational outreach program that, among other things, has introduced 10,000 D.C. school children to Ms. Anderson's artistry and activism, Of Thee We Sing is already being heralded as a vital cultural event for the D.C. area.
The program will be live streamed on the District of Columbia Network on April 12 and will air on Centric (A BET Network) in June 2014.
Of Thee We Sing has earned the support of numerous funders and program partners (see below), as well as an Honorary Host Committee comprising United States Senators and Representatives from several states, including over 15 members of the Congressional Black Caucus (CBC).
Funders & Supporters
Fluor Corporation
Airlines for America
Centric (A BET Network)
Daimler
Daughters of the American Revolution & DAR Constitution Hall
EventsDC
Jacqueline Badger Mars and Mars, Incorporated
Van Auken Family Private Foundation, Honoring global efforts to advance awareness & early detection of Lung Cancer
Clear Channel
National Endowment for the Arts
Pfizer Inc.
United Therapeutics Corporation
Program Partners
National Park Service
The Board of Directors & Women's Committee of WPAS
National Park Foundation
Centric (A BET Network)
WHUT (Howard University Television)
District of Columbia Network
American Red Cross
Family of Marian Anderson
WETA Washington DC
Media Partner
The Washington Post
The Washington Informer
Affiliate Partners
Marian Anderson Historical Society
National Museum of African American History and Culture
For more than four decades, Washington Performing Arts Society has created profound opportunities for connecting the community to artists, in both education and performance. Through live events in venues that criss-cross the landscape of the D.C. metropolitan area, the careers of emerging artists are guided, and established artists who have a close relationship with local audiences are invited to return. In this way, the space between artists and audiences is eliminated, so that all may share life-long opportunities to deepen their cultural knowledge, enrich their lives, and expand their understanding and compassion for the world through the universal language of the arts.
Washington Performing Arts Society is one of the leading presenters in the nation. The organization's inherent belief in the complete spectrum of the arts is revealed in performances of the highest quality, including classical music, jazz, gospel, contemporary dance, international music and art forms, and works that bend genres in provocative ways. The commissioning of world premieres on local stages to support artists' creativity is critical to the mission of WPAS. Dynamic education programs in the schools and beyond are a hallmark of the institution. Set in the nation's capital and reflecting a population that hails from around the globe, these abundant offerings both ground us in the great heritages of the world, and allow our imaginations to fly, evoking fresh perspectives on life.
WPAS was honored by President Barack Obama with a 2012 National Medal of Arts for bringing world-class performances to our nation's capital, becoming only the fourth D.C.-based arts group and the first arts presenter of its kind to be so honored. WPAS also received the 2012 Mayor's Arts Award for Excellence in Service to the Arts.