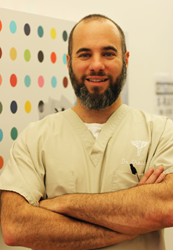 New York, NY (PRWEB) March 26, 2014
As a newly certified Frozen Shoulder specialist, Dr. Shoshany is now able to offer his NYC patients suffering from a variety of shoulder dysfunctions even more treatment options. In addition to his existing non-surgical physical rehabilitation therapies for shoulder pain and injuries, Dr. Shoshany now offers Niel-Asher Technique® soft-tissue and joint manipulation treatments.
The Niel-Asher Technique® is built upon a series of patented sequences of soft-tissue manipulation, applying pressure to release impinged nerves, mobilize adhesions, relieve pressure, reduce inflammation, relieve pain, restore mobility, and much more. Unlike other methods, the Niel-Asher Technique® works by stimulating nervous receptors in the arm and shoulder area, sending signals to the brain that promote faster healing and pain relief than other therapies. The Niel-Asher Technique® can be applied on its own as well as in conjunction with other physical therapy and chiropractic treatment modalities.
The Niel-Asher Technique® provides noticeable results in as few as four treatments; however, the individual amount of treatments required will vary depending on each patient's condition. Because these treatments work with the body's self-healing mechanism by enhancing its recovery abilities, there is no additional downtime or medications required. By stimulating nervous receptors and remodeling the neurological profile, the brain changes the damaged motor output of the affected area and replaces it with progressively reinvigorated, healthier movement patterns. This treatment protocol is especially effective to holistically treat common shoulder injuries such as rotator cuff tears, tendonitis, bursitis, tendinopathy, torn ligaments, and arthritis pain.
In addition to the new services available for shoulder pain in NYC following Dr. Shoshany's recent Niel-Asher Technique® certification, Dr. Shoshany's website has expanded content that includes more detailed information on the conditions that are treated at his physical rehabilitation clinic, as well as the myriad non-surgical therapies offered to patients. The recently expanded website also offers patients the opportunity to contact Dr. Shoshany and his team directly as well as schedule appointments online. Please visit http://www.drshoshany.com for additional details.
For further information on the Niel Asher Technique® Frozen Shoulder certification, please visit http://www.frozenshoulder.com.
About Dr. Steven Shoshany D.C.
Regarded as one of Manhattan's top chiropractors, Dr. Steven Shoshany is an internationally-recognized pioneering innovator in the field of spinal decompression, and being one of the first doctors to offer the revolutionary non-surgical treatment in New York City. A graduate of Life University's class of 1996, Dr. Shoshany is certified in Active Release Techniques (ART) and has been successfully practicing in the downtown Manhattan area since 1999, where he currently resides with his wife and children. For more information on Dr. Shoshany, please visit http://www.drshoshany.com.