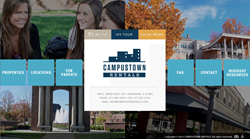 The fact that we were invited to the first-ever Marketing Masters Conference as their preferred touch system provider is a tremendous honor
Denver, CO (PRWEB) March 28, 2014
Engrain (http://www.engrain.com), the leader in touch screen property tour and resident interaction systems, has announced the completion of strategic meetings with Greystar regarding the partnership of TouchTour virtual tour kiosks.
"Greystar is a real estate leader not only because of the premier properties that they develop and manage, but also because of how they manage them," said Audrey Bolema, director of marketing and business development at Engrain. "TouchTour has proven its value not only as a 'digital concierge' for residents, but as a powerful efficiency tool for sales and leasing teams, and as an intuitive, self-help research tool for prospects. The conference was also a great time to show the Greystar team the new corporate dashboard software available for offices as a B2B sales tool. The fact that we were invited to the first-ever Marketing Masters Conference as their preferred touch system provider is a tremendous honor."
TouchTour units, which are large (42" to 70") multi-touch panels, were first used by multifamily sales and leasing offices to provide in-depth virtual property tours, local area information and other services. The system is now being utilized in other markets as well, such as single family real estate and higher education housing. When not in use by prospective or current residents, TouchTour screens display community messaging.
"We're thrilled with how well TouchTour has been received at our existing Greystar implementations," said Brent Steiner, Engrain president and CEO. "The Marketing Masters Conference provided the perfect setting for discussing plans for expanding the rollout within properties and office locations. It was also a great opportunity to demonstrate the latest TouchTour features to all of their regional marketing managers and to gather input on how we can further enhance the system. Our collaboration with Greystar continues to be a source of process and product breakthroughs for both companies."
About Engrain
Engrain is a leading provider of immersive touch screen technology and award-winning digital branding and design services within the real estate market. Its TouchTour™ system is used at some of the most respected properties in the country. Founded in 1995 and based in Denver, the company works with clients throughout the U.S. and Canada.
For more information, please contact Audrey Bolema, director of marketing and business development, 303-903-3863 or audrey(at)engrain(dot)com.