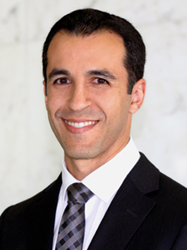 One of the best ways to protect yourself from colon cancer is to have all the necessary information.
Beverly Hills, CA (PRWEB) March 26, 2014
Ari Nowain, MD, a gastroenterologist at La Peer Health Center in Beverly Hills, California, took time recently to discuss why some of the most common myths about colon cancer are incorrect. The recently published list of the top 5 colon cancer myths includes the belief that only men are at risk for colon cancer and that having a polyp means you have cancer.
"One of the best ways to protect yourself from colon cancer is to have all the necessary information," said Dr. Nowain. "That way you can make the correct choice based on accurate knowledge."
Dr. Nowain went on to explain, "The belief that men alone get colon cancer is simply not true. Women and men both are at risk. It is also not true that having a polyp means you have cancer. Most polyps are benign, but removing them early is a good way to prevent them from potentially turning cancerous."
Other common colon cancer myths include the belief that only those who are 50 or older need screening, that colonoscopies are painful, and that patients rarely survive colon cancer.
"In fact, all of these are untrue," said Dr. Nowain. "And it is very important that patients don't avoid screening for reasons such as fear of pain or the misconception that they don't need it. Colon cancer screening saves lives."
Current recommendations for the first colon cancer screening include everyone 50 years of age and older. African Americans should begin screening at age 45, and those with a family history should begin screening ten years before the age at which their family member was found to have colon cancer.
Ari Nowain, M.D. is double board-certified in Gastroenterology and Internal Medicine and practices in Beverly Hills, California. Trained to diagnose and treat conditions of the digestive tract - with special training in colonoscopies, Dr. Nowain is committed to providing high quality accessible medical care to his patients. He performs outpatient procedures at La Peer Health Systems in Beverly Hills.
La Peer Health Systems is an outpatient surgery center in Beverly Hills, founded by doctors and focused on providing excellent patient care alongside the most cutting-edge medical treatments available. With 47 world-renowned physicians in 13 specialties, comprehensive medical treatment is offered that takes patients from consultation to diagnosis, treatment, surgery, and ultimately aftercare. The 13 medical departments include orthopedics & sports medicine, gastroenterology, head & neck surgery, colorectal & general surgery, podiatry, ophthalmology, pain management, plastics & reconstructive surgery, gynecology, spine surgery, interventional cardiology, bariatric surgery, and anesthesiology. Unlike large hospitals, La Peer's unique structure offers extremely personal care in a safe and controlled environment.
To learn more about La Peer Health Systems, visit http://www.lapeerhealth.com.