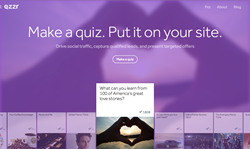 We're seeing publishers use quizzes to get their content out there with more shares and user engagement.
Lehi, Utah (PRWEB) March 26, 2014
Quizzes are the new list articles, according to Harvard University's Neiman Journalism Lab.
While list articles have enjoyed popularity for sometime on big websites like Buzzfeed and The Daily Mail, their reign may be coming to an end with the dawn of the online quiz. From serious topics like "Which college should I attend?" to more lighthearted themes like "What breakfast cereal am I?", people are flocking to online quizzes in droves every day across just about every social media platform.
A new tool is now available to help publishers and websites build unlimited quizzes for users to take and share across the Internet. It's called Qzzr, a quiz creation tool that can be used in pretty much any context.
"This tool can be used for teachers to create quick assignments for their classes," Qzzr co-founder Josh Little said. "It can be used in training for new employees. It can be used by teens who want to find out what their friends know about them. There are virtually endless ways this tool can be used."
"We're seeing publishers use quizzes to get their content out there with more shares and user engagement," Qzzr co-founder Josh Little said. "Marketers are using quizzes to segment users, drive them to offers based on responses, capture leads, and spread brand awareness. Of course, teachers can user Qzzr to quiz their students too. The possibilities are endless."
"The best aspect of Qzzr is anyone can use it," Little said
Qzzr allows users to build, embed and share their own quizzes online. Quizzes can be peppered with images, animated GIFs and other features to draw more eyes.
"Quizzes let people take some of the 'me drug'." Josh Little, Qzzr co-founder, said. "Buzzfeed and the NYTimes kicked off the quiz craze with two incredibly viral quizzes 'What State Do You Actually Belong In?' and 'How Y'all, Youse and You Guys Talk'."
While these quizzes were successful, Little said, the publishers had to put their own resources into building theses quizzes.
"The problem is those publishers have spent a ton of cash building their own tools," He said. "Most people just can't do that. With Qzzr, anyone can get the same amazing results for their own site, brand, or blog."
Recently, Qzzr launched the capability to create outcome-based quizzes. This allow takers to plug in preferential information and determine which "whatever" they would be.
"We've joked that Qzzr is 'the identity crisis generator'," Dan Garfield, Qzzr's lead marketer. "Users make quizzes that let their fans find out what 1980s cartoon character they are, what famous Civil War general they would have been, or what type of tree they might be."
Qzzr allows users to create quizzes in an interactive format, Garfield said. Each question appears by itself and gives feedback after a response is made. This helps users remember, learn, and engage with the content.
While Qzzr is free to use, some features are reserved for pro publishers or marketers. For instance, without pro, embedded quizzes drive shares back to Qzzr's website but with Pro, quizzes can drive shares to the publisher's embedded version of the quiz.
Unlike most embeddable quizzes out there, Garfield said, this makes it possible for the publisher to get full credit for the content they created.
Check out Qzzr at http://www.qzzr.co.
Full presskit available on Dropbox http://goo.gl/XoToQ6.