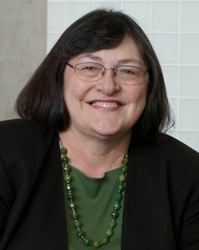 Rockville, MD (PRWEB) March 26, 2014
The U.S. Pharmacopeial Convention (USP) congratulates Marilyn K. Speedie, B.S. Pharm., Ph.D., dean of the University of Minnesota College of Pharmacy, on being the recipient of the 2014 Remington Honor Medal, the highest honor bestowed by the American Pharmacists Association (APhA). Speedie is a pharmaceutical sciences trustee of the USP Board of Trustees, and has served on USP's board since 2010. She has served since 2010 as chair of the board's governance committee. Prior to her board election, Speedie had held various volunteer positions with the USP Convention and Council of Experts.
"Marilyn's accomplishments in and contributions to the profession of pharmacy are inspiring," said Ronald T. Piervincenzi, Ph.D., chief executive officer of USP. "The leadership and commitment she brings to the pharmacy community have played critical roles in shaping USP's strategic thinking on a number of issues, including biotechnology and therapeutics, best practices related to pharmaceutical compounding and other important areas that affect public health."
Speedie's diverse accomplishments include: facilitating the National Institutes of Health's recognition of Doctor of Pharmacy (Pharm.D.) accredited individuals as principal investigators; helping Minnesota create a practice environment where pharmacists play a key role in medication therapy management for patients; leading the way for passage of legislation in Minnesota that allows pharmacists to administer immunizations and recognizes pharmacists as healthcare providers; facilitating the implementation of the University of Minnesota's entry-level Pharm.D. program and initiating a non-traditional, web-based Pharm.D. program.
The Remington Honor Medal, named for eminent community pharmacist, manufacturer and educator Joseph P. Remington, was established in 1918 to recognize distinguished service on behalf of American pharmacy. Speedie will be officially recognized during the APhA Annual Meeting in Orlando, March 28–31, 2014. The APhA awards and honors program is the most comprehensive recognition program in the profession of pharmacy.
Speedie has been dean of the University of Minnesota College of Pharmacy since 1996. During her tenure as dean, she has expanded the pharmacy program to the campus of the University of Minnesota, Duluth, resulting in increased admissions per year; established the Center for Leading Healthcare Change which she also co-directs, and built a national presence for the College of Pharmacy through service in organizations such as USP and others.
Speedie received a B.S. Pharm. in pharmacy and a Ph.D. in medicinal chemistry and pharmacognosy from Purdue University. Before coming to the University of Minnesota, she spent 21 years on the faculty of the University of Maryland School of Pharmacy. Speedie is a past-president of the American Association of Colleges of Pharmacy and currently is a member of the board of directors for the National Institute for Pharmaceutical Technology and Education. She was named distinguished alumna of the School of Pharmacy and Pharmaceutical Sciences at Purdue University. In 1994, she was awarded the Paul Dawson Award by AACP for her research and teaching in the area of biotechnology. Speedie is also a fellow of the American Association of Pharmaceutical Scientists.
For more information, please contact mediarelations(at)usp(dot)org.
###
USP – Global Expertise, Trusted Standards, Improved Health
The U.S. Pharmacopeial Convention (USP) is a global health organization that improves lives through public standards and related programs that help ensure the quality, safety, and benefit of medicines and foods. USP's standards are used worldwide. For more information about USP, visit http://www.usp.org.