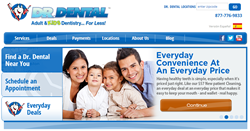 (PRWEB) March 26, 2014
Family dental practice, Dr. Dental, is launching a new look website with increased functionality. All of their simple features that patients enjoy will remain intact, and will be complemented with new features. Gone is the green, orange and purple scheme, replaced with easily-navigable modern design that patients and prospective clients will love.
Popular features like the Spanish language option, links to social networking sites (Facebook, Twitter and YouTube) are being retained. Details of Dr. Dental's range of 17 services and 37 locations will be transferred onto the new website. The Dr. Dental blog is being retained, updated and given prominent access from the tool bar on the front page.
New Features
The most significant change, apart from the crisp new blue and white color scheme, is that patients will be able to schedule appointments online from whatever page they are viewing on the website. The patient provides their name, telephone number (essential), desired date and time. The preferred location is selected from a drop-down list.
A generous free text box is available for additional information, such as the reason for the appointment. This can be anything from a New Patient Special for $25, dental cleaning for $57 (including exam, Bitewing x-rays and treatment plan) to a sudden toothache, fracture or lost filling. This is also a good place to record allergies, medications or any concerns or questions the patient may have before visiting the dentist.
Same Friendly Service
According to a source at Dr. Dental, "Although the website itself has been revamped, patients can count on having access to the same extensive range of locations and services; the same warm, respectful and compassionate treatment by the staff, convenient hours, everyday prices and wide range of payment options.
"Our mission is the same as it was the day we opened our first practice in Massachusetts, to provide families with friendly, affordable dental care."
About Dr. Dental:
A family company, Dr. Dental opened its first office in Massachusetts in 2004. Its mission was to make it as easy as possible for families to access the care they needed in a friendly and comfortable environment. Today, Dr. Dental has several convenient locations in Connecticut, Massachusetts, New Hampshire, New Jersey and Rhode Island.