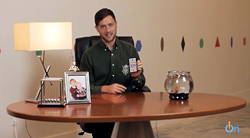 "This is an exciting time for anyone interested in cool technology and interior design," said Metcalf. "This is the future of home automation, and with the funds received from this campaign, we can make it a reality."
Jacksonville, Florida (PRWEB) March 26, 2014
Ion Switching announced today that is has launched a campaign on the crowdfunding site Kickstarter.com to bring its innovative electronic devices (patent pending) to market.
"iOn is being described as the 'next generation of the light switch,'" said spokesperson Landon Metcalf. "Everyone is eager to get their hands on the iOn and a successful Kickstarter campaign is a step in the right direction."
Campaign funds will help to fund production tooling, application development and global testing and certification. Upon completion of a successful crowdfunding project, Ion Switching plans to begin shipment of the iOn this August to backers of the campaign. Backers who pledge $1 or more can receive gifts ranging from project updates and the opportunity to design their own switchplate to actual iOn switches for their home.
"This is an exciting time for anyone interested in cool technology and interior design," said Metcalf. "This is the future of home automation, and with the funds received from this campaign, we can make it a reality."
Unlike other light switches, the iOn is controlled by a capacitive proximity switching system, allowing users to control their electrical and electronic devices with a wave of their hand – or with their iPhones or Android smart phones. IOn switches can control lighting, fans, pool pumps, electric fireplaces -- or virtually any electrical or electronic devices in the home simply with a wave or through the free app on the user's smart phone.
To pledge, or to learn more about the Kickstarter campaign, click here.
About Ion Switching
Ion Switching's mission is to make the magic of capacitive switching a part of everyday life. Founded by Martin Wyeth, an engineer with over 20 years of experience in technology innovation, the Florida-based company is developing an innovative line of affordable, unique and user-friendly electronic control devices for consumers. Leveraging the durable, versatile and efficient attributes of capacitive technology, Ion Switching has introduced the iOn, an electronic switch device that lets users control electrical and electronic devices with a wave of a hand or with a smart phone. To learn more, visit http://www.ionswitching.com or follow them on Twitter @ionswitching.
###