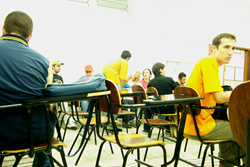 Giving back is what its all about. I am inspired by the enthusiasm of young students today. Full of dreams and aspirations. Giving them a little road map to achieve those goals can make all the difference. -- Mitchel Nelson
St. Louis Park, Minnesota (PRWEB) March 27, 2014
Youths today are facing increasingly more complex financial responsibilities and obligations as they get older. They are being born and raised in an economy that is harder to gain a foothold in than it has been in past memory.
According to the National Financial Educators Council, when nearly a selection of nearly 2,500 youths between the ages of 15 and 18 years old were given a financial literacy test, only 30.1% scored at or about 70%. Leaving 69.9% of those tested to be found below average or failing in having the knowledge necessary to make educated decisions about their finances.
Programs like BestPrep aim to change those numbers for the better. BestPrep uses programs designed to engage students grades 4-12 and prepare them with business, career, and financial literacy skills that they can use in the real-world to help them succeed in work and in life.
Mitchel Nelson, President of MyDisabilityPlans, LLC is one of the volunteers that BestPrep utilizes in their Classroom Plus program. Classroom Plus is the flagship program of BestPrep, connecting educators and business professionals to bring business and career skills to students.
Mitchel has been performing his presentation, sharing his unique story of starting his own company, MyDisabilityPlans. He hopes to excite the students that he speaks to, using his time to speak with the students about how his entrepreneurial spirit pushed him to start his own company and the education that helps him do his duties and meet the goals that he sets out.
Mitchel has spoken at a number of schools in and around the Twin Cities, some of which include: Como Park Senior High School, Henry Sibley High School, Robbinsdale Armstrong High School, Heritage Academy of Science and Technology, and Hopkins High school.