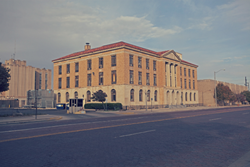 Los Angeles, California (PRWEB) March 26, 2014
24/7 Van Lines, a nationwide moving service located in Southern California and serving all 50 U.S. states, is pleased to announce a corporate expansion to service certain areas of Texas. Now movers in Lubbock, TX will be able to utilize the services of 24/7 Van Lines, including generating flat rate quotes and enjoying the company's steadfast promise to beat other competitors' rates on flat rate moving services.
A nationwide moving company, 24/7 Van Lines has been primarily focused on creating a presence in the more rural areas of some states, including in Texas. In these more remote areas, movers often struggle to find mainstream companies that will relocate them. Typically, movers in Lubbock, Texas have only had a few options as to which entity they could use for relocation. With this new service option available by 24/7 Van Lines, there are newer options for those choosing to relocate using a premium company that offers flat rate moving options.
"Our goal is to ultimately provide service not only to movers in Lubbock, TX, but to movers located in every single city throughout the continental United States," explained company spokesperson, Mark Tanning "We are very pleased to be now servicing this city with our premium moving options and advantageous flat rates, and look forwards to further expanding in the years that come to be able to provide our services to more cities."
24/7 Van Lines will offer movers in Lubbock, TX the same amenities as they do elsewhere. These include free in-home inspection; flat rate binding estimates; local, national and international moving services; piano moving; fine art shipping; and much more. Customers need only contact the sales office to schedule a free in-home inspection and to receive a flat rate moving option. The company also guarantees to match or beat competing rates to offer their customers the lowest price.
You can learn more by visting 24/7 Van Lines online.
About
24/7 Van Lines is California's most trusted commercial and residential moving service. They offer local, state, national and international moving services for all 50 states. The entity also offers packing and crating services, fine art shipping and even piano moving. In recent news, the company has expanded and will now be offering movers in Lubbock, TX with all-inclusive and flat rate moving options.
Press Contact:
Mark Tanning
24/7 Van Lines
323-920-0048