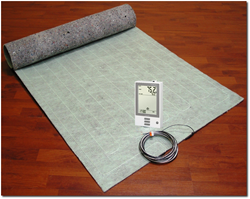 Thermosoft's mission is to warm the world and thereby make our globe more comfortable and peaceful.
Vernon Hills, IL (PRWEB) April 01, 2014
Thermosoft's mission is to warm the world and thereby make our globe more comfortable and peaceful. Accordingly, Thermosoft's recently published a paper on its website that discusses the settled science of global convection heating, including its associated problems of noise, drafts, reduced energy efficiency and the spread of dust, dirt and allergens. The consensus of Thermosoft's Internal Panel on Comfort Consequences is that the advantages provided by modern, affordable radiant floor heating, which is widely available in the West, most notably that it is soothing, cozy, calming, energy-saving and more comfortable, could reduce not only a nation's energy dependence but also global tensions particularly as seen in regional conflicts in the Ukraine and Russia. The findings include facts contributed by experts at the prestigious American Society of Heating, Refrigeration and Air Conditioning Engineers as well as the United States Department of Energy. For more information, please visit: http://www.thermosoft.com/radiant-floor-heating-news/032414-press-release/
Homeowners, professional installers and government procurement officers can conveniently shop Thermosoft's secure and verified website that reliably operates 24/7/365. Many buyers prefer to call Thermosoft's toll-free "heatline" to speak with knowledgeable and trusted professionals to help them navigate various in-floor warming options. Thermosoft's candid, informative and respectful sales representatives are standing by to answer radiant floor heat and installation questions by phone, email or by chat. Thermosoft offers a 100% money back guarantee.
Thermosoft International Corporation is the leading, fully integrated, USA manufacturer of UL and ETL/Intertek compliant in floor warming systems that are easy-to-install, affordable and green, saving energy up to 40%. Thermosoft provides its systems for installation under almost any type of floor covering. Same day shipping, lifetime warranty, toll-free installation and lifetime technical support are provided for Thermosoft's radiant floor heat systems. For more information, visit: http://www.thermosoft.com.