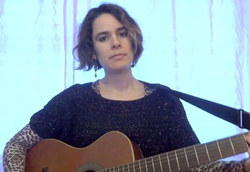 (PRWEB) March 25, 2014
Maria begins this easy acoustic guitar lesson by explaining what chords are used in the song. The easy guitar chords that she mentions are; E, A, B, C#m (C sharp minor) and F#sus4 (F sharp suspended four). The E, A and B chords are all in the open position and the C#m and F#sus4 are both bar chords. "The strumming is very full on," says Lua. She demonstrates it as down, down, down, up, down, down, down, down, up, down (1-E-&-A, 2, 3-E-&-A, 4). Maria continues this easy guitar lesson by performing the whole song so that even the novice guitarist can play and sing along with her so as to not miss any of the details of the song. Complete chord charts as well as guitar TAB's are available for this video guitar lesson at SongTabs.com.
Queen is a British rock band formed in London in 1970 by guitarist Brian May and drummer Roger Taylor. The band gained international success in 1975 with the release of the album "A Night at the Opera" which featured the single "Bohemian Rhapsody", which was number one on the UK Charts for nine straight weeks. By the 1980's Queen was one of the biggest rock bands in the world partly due to the wild stage antics of original lead vocalist Freddy Mercury, who sadly died from A.I.D.S in 1991. The band has continued with other vocalists including American Idol finalist Adam Lambert most recently. Queen has sold 300 million albums world wide and was inducted into the Rock and Roll Hall of Fame in 2001.
Maria Lua
Is a folk inspired singer, songwriter, musician and performer, using melody and lyrics to uplift and motivate her audience. At the end of 2012 Maria and her band descended on professional recording studio Shrunken Heads Studios to record 4 songs for her upcoming E.P. "Free Spirit".
About SongTabs.com
SongTabs.com is a great online resource for learning to easily play your favorite songs on the guitar. With several great instructors and a constant growing catalog of songs, everyone can learn to play there favorite songs.