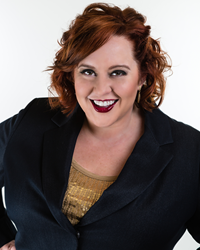 By coming together to mentor, mastermind, and meet with other women executives, we can improve the professional climate for women, and by extension, all workers.
New York, NY (PRWEB) March 26, 2014
On April 25th, the nation's largest professional organization for women, the National Association of Professional Women (NAPW) hosts its star-studded annual conference at the Marriott Marquis in New York's Times Square. In attendance will be NAPW's 2014/2015 Woman of the Year Ariana Ayu along with keynote speaker Barbara Corcoran, star of ABC's hit show Shark Tank, and event host, NAPW spokeswoman, Emmy Award-nominated TV host, attorney, best-selling author, and former New York City homicide prosecutor, Star Jones. Receiving the inaugural NAPW Icon Award at the conference is Robin Roberts, an award-winning, trail-blazing journalist, and anchor of ABC's Good Morning America.
NAPW's 2014/2015 Woman of the Year Ariana Ayu is being honored in recognition of the strides she has made in the field of business development, her outstanding leadership skills, and her professional achievements. Her first book "The Magic of Mojo: The Creative Power Behind Success" has just entered production and will be available in print and digital formats in Autumn 2014.
"I am excited to be joining professional women, innovative leaders, and business women from so many industries at this conference. Despite being about half the workforce, we women are still in the minority when it comes to executive positions in major global corporations" says Ayu. "By coming together to mentor, mastermind, and meet with other women executives, we can improve the professional climate for women, and by extension, all workers" (http://www.Ayutopia.com).
Only 16.9% of board members, 14.6% of executives, 8.1% of top earners, and 4.6% of CEOs in Fortune 1000 companies are women, according to Catalyst(1). This means that the "glass ceiling" is still in place, despite the progression of the women's rights movement since the 1970s. According to the U.S. Census bureau, women make up 47.2% of the labor force, and the most common job for women is still that of secretary/ administrative assistant(2). The US Department of Labor confirms this and shows that women's top earnings are still falling short of their male counterparts(3).
"There's still a lot progress for us to make, but I'm confident that when we work together we can forge ahead in a way that would make our grandmothers proud" Ayu said. "Gloria Steinem just had her 80th birthday [3/25/14], so I think we should move forward with her pioneering spirit. To use her words: 'Like art, revolutions come from combining what exists into what has never existed before.' I believe that's what we accomplish as women when we come together: we combine all our strengths into a bright new future that benefits humanity."
The NAPW annual conference draws the nation's top professional women from all industries, and has featured speakers such as Martha Stewart, Arianna Huffington, Sara Blakely, Ivanka Trump, and Randi Zuckerberg in prior years. This year's theme is "Aspire, Connect, Achieve" and features expert panels with the themes of Whole Woman, Philanthropy, and Entrepreneurship, as aligned with the mission of the NAPW: "to provide the most advanced forum for members to connect with like-minded professional women to develop innovative business and social relationships."
---
(1) http://www.catalyst.org/knowledge/us-women-business
(2) http://www.census.gov/how/infographics/acs_infographic_eeo.html
(3) http://www.dol.gov/wb/stats/Occupations.htm#hpoccs
---
ABOUT ARIANA AYU
Ariana Ayu is America's Mojo Maven and National Association of Professional Women's 2014/15 Woman of the Year. An entrepreneur, author, interpersonal expert, Registered Nurse, and a business and brand strategist, Ariana is the CEO and founder of several companies including Ayutopia International, LLC, which creates empowered corporate evolution (specializing in the healthcare industry): decreasing turnover, increasing engagement, and building values-driven brand cultures.
Ariana has worked as a high-level executive and board member for a multi-million dollar consulting company. She is an internationally respected author, speaker/singer, trainer, consultant and coach. She is also the founder and creatrix of the Bodacious Branding system, Sacred Business Summits™, and author of the upcoming Magic of Mojo™ series. Ariana's press includes radio interviews and articles in USA Today, CBS Money Watch, Newsday, Virtual-Strategy Magazine, the World's Luxury Guide, Renewable Energy World, MoneyShow.com, The Miami Herald, A.M. Best Company, Beyond the Dow, and Hollywood Industry among others.
Ariana keeps her clients on track, focused, and moving in their right direction to attain business and personal success. Her philosophy is that your business should help you "earn more, live luxuriously, and be profoundly fulfilled." A native of the Washington, DC area, Ariana lives in the beautiful mountains of Asheville, North Carolina with her beloved husband David and their snugglehound Iris.