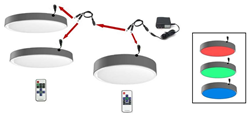 Besides beautiful selection of colors and visual effects available on MagicLights™ via Remote, customers will also benefit from add-on safety
San Diego, CA (PRWEB) March 27, 2014
ADVS-technologies is currently developing the patent pending LED illuminated house light called MagicLight™.
"There are number of unique features are being designed into the MagicLight™", says inventor Zack Braunstein. "I would like to emphasize the #1 – Safety. The embedded controller will monitor the ambient temperature surrounding the MagicLight™. When the temperature is above predefined maximum level, the intelligent MagicLight™ will blink warning of a potential safety problem in the area surrounding the MagicLight™. The MagicLight™ when operating from a stand-alone battery will perform all important functions when there is no electricity during a power outage."
Other features of the MagicLight™ include:

Efficiency: The embedded controller within the intelligent MagicLight™ continuously monitors ambient level of light, and adjusts accordingly the illumination intensity to conserve energy. Providing visible illumination while consuming less than 3 Watts of energy, the intelligent MagicLight™ can be powered by a stand-alone battery, sustaining its functionality for a number of weeks.
Reliability: The embedded controller of the MagicLight™ continuously performs self-diagnostics, and optimizes controls of LED's maintaining specified longevity of the product, including LED devices, estimated at minimum 50,000 hours of continuous operation.
"Imagine", continuous Braunstein, "a Plug-n-Power™ kit of MagicLights™ configured for providing under cabinet illumination in a kitchen, near heat producing appliances, such as: stove, toaster, etc. Besides beautiful selection of colors and visual effects available on MagicLights™ via Remote, customers will also benefit from add-on safety. The intelligent MagicLight™ will inform customers by blinking when there is a potential problem in the area surrounding the MagicLights™ due to elevated ambient temperature exceeding a predefined limit".
"In addition", concludes Braunstein, "the intelligent MagicLights™ will optimize use of electricity. A designated MagicLight™ selected for monitoring safety can be operated from a set of eight AA batteries for weeks, sustaining its functionality during power outage".
To reserve your intelligent MagicLights™ kit with great features described here, please
visit MagicLight™ Crowd Funding Campaign.
About ADVS-technologies
ADVS-technologies is a startup company specializing in the development of innovative proprietary technologies with intellectual property values under regulations by the USPTO, and applicable international laws. The objective of ADVS-technologies is to provide effective and efficient environmentally friendly solutions with the intent of improving quality of services.
MagicLight, ParallelView and Plug-n-Power are trademarked products of ADVS-technologies.
For more information, please visit
http://advs-technologies.com/