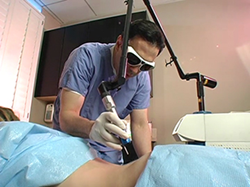 Los Angeles, CA (PRWEB) March 26, 2014
According to a Today Health report dated March 20, 2014 and titled "Rue that tattoo? In one of life's few do-overs, laser removal takes off," more than 45,000 tattoo removal procedures were performed in 2013, up from 40,801 reported treatments in 2011. Tattoo removal involves using a laser to break down the ink pigment into tiny particles that can be absorbed into the blood stream and eventually expelled from the body. (See: goo.gl/irDIbN)
"These numbers are reflected in our practice," says Dr. Simon Ourian, Medical Director of Epione Medical Corporation. "I think it's a combination of factors driving these numbers. Some who may have once regarded their tattoo as a form of rebellion against society now find the art form co-opted by the mainstream. Others regret the content of their tattoo which may include the name of a former lover or an image depicting a lifestyle they no longer live. And for some, it's a way to erase shoddy artwork. The number of poorly rendered tattoos we see is amazing."
As reported on Today's website, tattoos have grown in popularity over the past few decades. It is estimated that more than one in three young Americans have at least one tattoo. A 2010 Pew Research Center survey indicated that approximately one in seven Baby Boomers admitted to having a tattoo. This number almost doubles for Gen Xers and is even higher for Millennials.
"As the article indicates, it's often cheaper and less painful to get a tattoo than to have it removed," says Dr. Ourian. "The technology has improved significantly over the past few years; we have much greater success today removing colors such as yellow and red that were problematic in the past. And it's going to hurt. Maybe a lot."
Dr. Ourian has been a pioneer in laser technology and non-invasive aesthetic procedures including Restylane, Juvéderm, Radiesse and Sculptra. These treatments are used for the correction or reversal of a variety of conditions such as acne, acne scars, skin discoloration, wrinkles, stretch marks, varicose veins, cellulite, and others. More information about laser tattoo removal can be found on Epione's website.