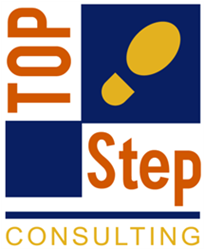 It is vital that we understand the needs of our customer from their point of view in order to uphold the quality of service we provide
Washington, DC (PRWEB) June 25, 2014
TOP Step Consulting announced today two new additions to their team. Tara Nardini and Andrea Larsen have joined the fast growing team of senior level consultants. Both come with skills and domain experience in Professional Services business operations. TOP Step prides itself in providing exceptional services to their clients and is a cornerstone to their brand. "It is vital that we understand the needs of our customer from their point of view in order to uphold the quality of service we provide. Inviting the right people with the right experience, expertise and attitude to join our team is something we place a high importance on," says Jodi Cicci, President and CEO of TOP Step Consulting.
Andrea brings with her over six years of Resource and PS Operations management experience within a global professional services organization. Prior to joining TOP Step Consulting, she spearheaded a PSA implementation using NetSuite OpenAir for a growing global consultant base of over 200, spread across multiple business divisions. Her most recent role had her overseeing global business delivery operations across both professional service and technology product groups. With a strategic focus in operational product line support and effective resource management, Andrea has acquired extensive knowledge in the areas of Sales, Finance and Legal Operations along with Product Deployment, Management and Marketing. "I understand, first hand, the challenges and struggles that customers face in their attempts to improve process and successfully establish conformity amidst varying business dynamics. Through perspective and experience, I hope to help TOP Step customers shape operational models that will effectively mold to the ever changing demands of their business," says Andrea.
Tara comes to TOP Step Consulting with over 13 years of experience in financial and operations management within professional services firms. Her background in project management and project finance enables her to understand the needs of the organization based on different roles. Tara looks forward to helping customers using her experience in business process and ERP and SaaS implementations to streamline their business processes and improve their visibility of project financial performance. "I am a firm believer in finding the best solution based on the customers business model to ensure it is flexible enough to scale to their business. I am excited to be a TOP Step team member The energy and teamwork is best described as empowering, whether it is internal to help each other or for our customer," says Tara.
About TOP Step Consulting LLC
TOP Step Consulting improves business efficiency and productivity for Professional Services business operations. TOP Step helps you achieve your profitability goals allow you to focus on building your business. Our experts have extensive experience in professional services business operations, project management, and professional services automation with both local and global professional services organizations. We are proud to be awarded "Best of the Best" by SPI Research for a fifth consecutive year.