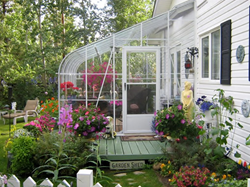 For those dreaming of added living space, it ends up being the most loved space in their home.
Surrey, B.C. (PRWEB) March 26, 2014
BC Greenhouse Builders, leading North American custom greenhouse manufacturer of hobby, commercial and estate greenhouses announced today that there has been increased interest in the home-attached greenhouse market.
"Currently, one in five of our requests are prospects looking to expand their usable square footage but in an economical way," says Angela Drake Marketing Director from BC Greenhouses. "The benefit of a home-attached greenhouse is not only easy access to water and power but it often adds solar heat gain to your home."
While the rule of thumb favors a straight southern exposure, it is best to remember that since you must protect greenhouses six to seven months a year with shade cloth to cut out excessive light with such an exposure, east or west can be desirable.
"When you look at the costs of adding an extension to your home versus a greenhouse, our product is typically about 30-40% less," says Drake. "We have many different styles and slopes to match the existing building and people have been really interested in talking about their available yard space and looking at options."
BC Greenhouse Builders is one of the few custom greenhouse manufacturers that are able to remove a gable end and attach to an existing building and maintain the necessary wind and snow loads.
"Gable-attached greenhouses are great for entryways or breezeways to other buildings especially in colder climates," says Drake. "For those dreaming of added living space, we hear from our customers that the greenhouse ends up being the most loved space in their home."
For more information on home-attached greenhouses, check out the BC Greenhouse Builders website.