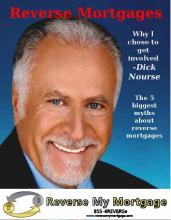 Salt Lake City, Utah (PRWEB) March 27, 2014
RMM wants to help senior citizens realize the dream of living out their retirement years in comfort, getting to know their grandchildren, and doing the things that they love. But, one of the challenges many senior citizens face is lacking the knowledge of how to support their current lifestyle with minimal income and limited Social Security Benefits. Recently, the experts at RMM announced that they would be introducing new social security and Medicare counseling services to help senior citizens considering a reverse mortgage in Colorado familiarize themselves with the pros and cons.
One of the many questions that senior citizens have when they turn to RMM to take advantage of these new counseling services is how exactly these processes work. Reverse mortgages in Denver provide senior citizens over the age of 62 with a way to turn the equity in their home into a monthly income. It is a federally guaranteed program through the U.S. Department of Housing designed to specifically help retirees get the most out of the home that they live in.
However, for every senior citizen interested in a reverse mortgage in Colorado, RMM's new counseling services also help seniors understand the pros and cons in an understandable and educational manner. For example, lenders still make their money like any other lender, through interest rates. Like any other type of loan, reverse mortgages are still subject to coming with an interest rate that varies with the market at the time. But, one of the main benefits is that they are still unlike traditional mortgages in several ways. One of these being that many homeowners are able to receive over $1,000 every month to augment their retirement income and the fact that family members can still live in the home following the death of the senior citizen that acquired the loan without needing to pay monthly payments.
RMM is dedicated to helping seniors understand reverse mortgages in Denver, how they work, and what their advantages and disadvantages are and their new counseling services are a testament to this. For more information about the pros and cons or to take advantage of the new counseling services now offered by RMM, visit their website at http://www.mortgagereversecalculator.com/.