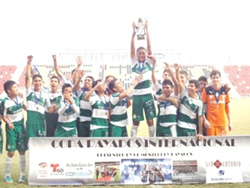 We have a great Rayados following and bringing an international youth soccer event is perfect to create a family and cross cultural event to enjoy.
San Antonio, TX (PRWEB) March 26, 2014
The Copa Rayados Internacional runs Wednesday, November 26 through Sunday November 30, 2014, and will bring more than 200 teams from across the region, country, and world to San Antonio Texas. For five days, San Antonio will host approximately 10000 attendees daily.
With the support of the San Antonio CVB and the City of San Antonio, mayor Julian Castro invites all, "When you are not competing, I encourage you to take advantage of our rich, multi-cultural heritage that has inspired San Antonio's South Texas hospitality, unforgettable food, and lively fiestas."
"The response from the community the 1st year has been great! And now for the 2nd year, the interest in the tournament has exploded with more international teams, Texan teams, and teams from across the USA. We expect overflow crowds watching the showcase matches and excited to return with this international tournament to San Antonio!" said Scott Spencer, tournament director for CF Monterrey Rayados and the Copa Rayados Internacional. He added, "The economic impact on the greater area will reach several million dollars and will shine a spotlight on central Texas."
Nicolas Martellotto, director of CF Monterrey Rayados youth academy, comments, "We have been looking for an opportunity to returning to San Antonio to continue to grow our relations in the community with our event. We have a great following and bringing an international youth soccer event is perfect to create a family and cross cultural event to enjoy."
CF Monterrey Rayados is the #1 ranked professional club and youth academy in Mexico and #42 ranked professional club in the World. With one of the most passionate fanbases in all of Latinamerica and the USA, the club is using this opportunity to grow within the youth soccer community in the USA. Rayados is bringing all of their youth academy teams to the tournament.
In 2013, champions were crowned from Mexico including Monterrey Rayados, UNAM Pumas, and Santos Laguna; from USA including Houston Dynamo, San Antonio Texans, and North Texas's Olympic Development Program; and internationally with Nigeria represented with Champions Garden City Panthers.
With both the San Antonio Convention and Visitors Bureau and the San Antonio Hispanic Chamber of Commerce as strategic partners, it will be a great opportunity for sponsors and partners to engage the regional, national, and international soccer communities.
See the best of the best youth teams in USA and beyond in San Antonio this Thanksgiving!
For more information about the tournament, visit http://www.coparayados.com or contact Scott Spencer 1-210-305-4821 or scottspencer(at)rayados(dot)com.