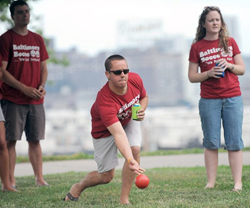 The Most Social League in Baltimore!- Todd Nagel
Baltimore, MD (PRWEB) March 31, 2014
Half active. Half social. That's the not-so-secret formula behind the Baltimore Bocce league.
The Baltimore Bocce is a locally owned and operated social sports league that's out to revolutionize the way Baltimore newcomers and natives meet, socialize and have fun.
Each Baltimore Bocce league consists of once a week league games, post-game parties and specials at local bars, socializing with other league members and lots of fun.
Baltimore Bocce allows anyone, of any athletic and physical ability can play and enjoy themselves while meeting new people and doing something fun during the week.
"We are league player ourselves, we've played in leagues that were great and others that weren't as fun," said founder Giovanni Marcantoni. "When everyone is able to participate no matter their skill, that's when people are the most social and have the most fun."
Registration for all leagues can be found on Baltimore Bocce's website http://www.baltimorebocce.com and costs $49 per person depending on the league.
Each league registration includes: eight weeks of league play, t-shirts, end of season free beer parties, weekly bar specials, prizes for league champions and other league member perks.
Plus this year teams have the opportunity to qualify for the Sport & Social Bocce National Championship in Baltimore, MD June 27-29. The top four teams from each league will qualify for the Baltimore City Championship June 14 with the top eight teams qualifying for the National Championship.
Locations for Baltimore Bocce include, Fed Hill Park, Patterson Park in Canton, Wyman's Park in Hampden and indoors at HomeSlyce in Mt. Vernon.
Baltimore Bocce got its start as a couple of guys from Baltimore, MD wanting to bring the fun they had in Washington D.C. playing in Kickball leagues with them to Baltimore.
"We played in a number of different sport leagues while going working in D.C., but our heart has always been in Baltimore and we decided we'd try our hand running leagues back here," said Marcantoni.
Registration for the spring season is now open and is done all online at http://www.baltimorebocce.com and closes April 7th with spring leagues starting the week ofApril 14th.
Please email Giovanni(at)baltimoresocial(dot)com.