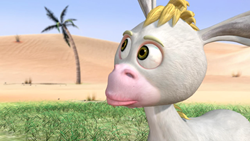 Mesa, AZ (PRWEB) March 26, 2014
Most television viewers are familiar with the children's Christian cartoon series - Adventures of Donkey Ollie, a thirteen part TV series produced by Boat Angel Outreach Center. The series is distributed and broadcasted worldwide. A recent Broadcaster from RevereTV in Massachusetts added the show and commented: "The Adventures of Donkey Ollie will air Sundays and Saturdays at 7am as a weekly series. Thank you for making it available at no charge through PegMedia.org"
The Boat Angel organization funds the printing and distribution of the first four Donkey Ollie films which are sent to individuals, churches, medical clinics, pre-schools, and home groups in requested quantities of 15 -48. The outreach program is supported completely by the non-profit boat donation program and car donations. The Donkey Ollie DVD offer has been getting extra attention from multiple websites and from reviewers letting parents and teachers know about the availability of these programs. "We got requests from over ten thousand people the first week of March, 2014. It seemed almost like our DVD offer went viral. We noticed that many websites had mentioned our animated DVDs and consequently, we will be printing up an additional 300,000 units which will be sent out. Some of the comments were very nice."
"I saw how the young child was fascinated with the DVD character Ollie." Kissimmee, Florida.
"My kids love the DVD. They play it everyday. They know the entire DVD. I love watching it also." Waycross, Georgia.
"We are a medical clinic and our patients love these DVDs." Tifton, Georgia.
"I would like to give these movies in my day care so they come closer to Christ." Scottsdale, Arizona.
"I just love this incredible movie, thanks for producing such a beautiful story for the children." Concord, CA
"We have one episode and my daughter loves Donkey Ollie." Redwood City, Ca.
The Adventures of Donkey Ollie was originally made as a five part films series by Aberle Films and DQ Animation, the show was converted to a thirteen part broadcast series to allow for wider distribution. Boat Angel has been offered many opportunities to sell the DVDs and books they produce. "We prefer to make the Donkey Ollie children cartoon series available directly to parents and teachers in this way. As long as our donors believe in us, we will continue to give these DVDs away. To see a child smiling is the best payment of all."