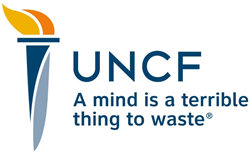 New Orleans, LA (PRWEB) March 26, 2014
The New Orleans office of UNCF (the United Negro College Fund) will join with Mayor Mitchell Landrieu to support education at the inaugural UNCF Mayor's Masked Ball on Saturday, March 29, 2014, at the Hyatt Regency New Orleans. The annual event is a black tie evening of elegance that will bring together hundreds of business, civic and education leaders to provide vitally needed funds to provide New Orleans students with the support they need to get to and through college, and to support UNCF Member Institutions Dillard University and Xavier University.
"I am excited to be here to help New Orleans celebrate its inaugural UNCF Mayor's Masked Ball, a wonderful event that brings together all of us who care about making sure we continue to provide students with the education they need, and that we need them to have," said Michael L. Lomax, Ph.D., president and CEO, UNCF. "The investment we are making in better futures for them tonight will pay dividends for all of us when they become the next generation of leaders that New Orleans – and the country - need in the future."
"We are proud of the longstanding partnership we have with UNCF and its Member Institutions here in New Orleans on behalf of our city's young people. This premier event will help to establish a pipeline of qualified African American graduates that will take New Orleans through the 21st century and beyond," said Mayor Landrieu.
Michael O. Smith, general manager, Hyatt Regency New Orleans serves as the chairperson of the UNCF Mayor's Masked Ball. The event's co-founding chairpersons are Alden J. and Rhesa McDonald, who began this event as the UNCF/Liberty Bank Ball in the City. Building on its success, the event – now known as the UNCF Mayor's Masked Ball is poised to become one of New Orleans' signature social events.
Entergy is the event's Presenting Sponsor. Hyatt Regency New Orleans, Shell, and Mardi Gras Productions serve as Marquis Sponsors.
The New Orleans UNCF Mayor's Masked Ball will open with a VIP reception for sponsors. There will also be a general reception, dinner, and program including silent and live auctions and the famous Parade of Stars and Dignitaries. Guests will also be treated to a special performance by the legendary, Grammy Award winning Isley Brothers.
Three New Orleans leaders will receive the UNCF Masked Award in honor of their strong support of education and the needs of students in New Orleans. They are:

Alden J. McDonald;
Rhesa McDonald;
Ellis Marsalis.
"We are grateful for the commitment of all of our New Orleans supporters and the investment they are making in better futures for our students and building a college ready culture here that will ensure a robust pipeline of qualified college graduates," said LaJuana Chenier, regional development director, UNCF. "This support is the force multiplier that allows us to do work that we do every day on behalf of our students and HBCUs."
For information about sponsorship and ticket availability, please contact the New Orleans UNCF office at 504.581.3794.
About UNCF
UNCF (United Negro College Fund) is the nation's largest and most effective minority education organization. To serve youth, the community and the nation, UNCF supports students' education and development through scholarships and other programs, strengthens its 37 member colleges and universities, and advocates for the importance of minority education and college readiness. UNCF institutions and other historically black colleges and universities are highly effective, awarding 20 percent of African American baccalaureate degrees. UNCF administers more than 400 programs, including scholarship, internship and fellowship, mentoring, summer enrichment, and curriculum and faculty development programs. Today, UNCF supports more than 60,000 students at over 900 colleges and universities. Learn more at http://www.uncf.org.
####