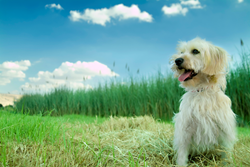 Many shared with me that they would prefer a different ending for their pet.
Oakland, CA (PRWEB) March 26, 2014
The Pet Concierge announces the launch of My Pet Lives On, a new service provided to help pet owners with the loss of a beloved pet while at the same time allowing their pet's memory to live on.
Lee Richter, CEO of The Pet Concierge, Montclair Veterinary Hospital and Holistic Veterinary Care, launched the service after a decade of assisting clients with end-of-life issues, noting, "We have received more thank you notes, photographs and thoughtful gifts for helping clients with end-of-life issues than at any other time. Through the natural life cycle of pets, there is a time when we have to say goodbye. I became curious on how we could help people and pets through that time, and the idea for My Pet Lives On was born."
My Pet Lives On offers a full range of end-of-life support and services, starting with the offer of biodegradable urn for pet owners to plant a beautiful tree using some of their pet's ashes. More than 6,000 have been sold worldwide and The Pet Concierge is pioneering to bring the Biodegradable urns to the U.S. to help people continue their relationship with their pet.
"One of the best options we found in our research is a biodegradable urn for pet's ashes that will grow a commemorative tree," notes Richter. "It was just a natural choice for our clients and for My Pet Lives On. Most of the people I interviewed had their pets' ashes in a little box or container, sitting on their mantel or up on a shelf. Many shared with me that they would prefer a different ending for their pet."
The biodegradable urn is a funeral urn made from cellulose and natural fibers. The urn comes with a pine seed, which can be replaced by a seed or plant of your preference, suitable for your location, climate or time of year. People can choose to start a new commemorative plant, or bury the urn next to an existing tree that will grow to remember your loved one as burial ashes nourish the tree.
My Pet Lives On is taking pre-orders for biodegradable urns for anyone in the US. The initial quantity is limited and the opportunity to pre-order is now open to the public. "This is an opportunity to honor your pet by letting their story continue, turning death into transformation and a return to life through nature," Richter observes.
For more information and to order an urn, visit http://www.MyPetLivesOn.com