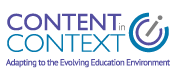 Philadelphia, PA (PRWEB) March 27, 2014
The AAP PreK-12 Learning Group is preparing for its major annual conference, Content in Context (CIC), taking place June 2-4, 2014 in Washington, DC. CIC is open to all professionals across the learning resource industry, including content developers, curriculum experts, editors, IT directors, and marketers, and will feature a full program covering the major issues impacting the education community.
The 2014 theme for CIC is 'Adapting to the Evolving Education Environment' and the sessions will explore the dynamic facets shaping the education industry such as the digital revolution, open educational resources (OER), government priorities, standards and pedagogy debates, changing views of assessments, and economic shifts. The program is organized into four strands: Evolving Content and Pedagogy, Evolving Economy, Evolving Policy and Research, and Evolving Technology.
"This year's CIC will assist all learning resource companies, both large and small, in their efforts to stay competitive, use their resources effectively, and make a positive impact on the lives of students worldwide," said Susan Fletcher, Senior Director of the Learning Group.
Michael Jay, CEO of Educational Systemics, is the chair of CIC for the third consecutive year. "Our goal with the program is to explore some very challenging issues but ultimately provide our attendees with information they can apply right away," said Mr. Jay. "CIC ties together business strategy and product development insights with important findings about how publishers can both support and leverage changes in how educators teach and students learn to improve their businesses."
The opening session is titled 'Open Educational Resources: The good, the bad, and the reality', and will explore how open educational resources have developed and what it means to educational publishers since it has become a popular option in many school districts. At the closing session, titled 'Education, we have a problem: Three ways to make our industry an agent for change', experts will discuss the learning resource industry's role in addressing three key issues: strengthening early childhood education, using educational technology for improved outcomes, and responding to Common Core State Standards.
CIC will also feature two special events on June 2 that are free to all registrants: The one-day forum 'Going Global! A World of Educational Publishing Opportunities' will run from 8:00 a.m. to 5:30 p.m. and is intended for companies interested in expanding to markets overseas. A half-day workshop titled 'Foundations for Success' will run from 1:00 to 5:00 pm and welcomes those who are new to the preK-12 learning resource industry.
About Content in Context
Content in Context was launched in 2010 as a collaboration between the Association of Educational Publishers (AEP) and the School Division of the Association of American Publishers (AAP). Previously known as the AEP Summit, the CIC conference was developed to highlight the need for the diverse community of publishers, content developers, platform architects, and service providers to focus on quality content as the key to successful teaching and learning.
The 2014 meeting is the first CIC to be presented by the new PreK-12 Learning Group, which was created last year as a result of the merger between the School Division of the Association of American Publishers (AAP) and the AEP. Professionals from across the preK-12 resource industry are welcome and can register for the conference online at http://www.contentincontext.org.
About The PreK-12 Learning Group
A division within Association of American Publishers (AAP), the PreK-12 Learning Group serves its diverse membership by providing valuable resources and industry intelligence; fostering a fair, competitive and robust market; and encouraging the development of professional, quality content for teaching and learning. The Learning Group engages state, local, and federal policy leaders on such issues as funding, curriculum, testing, and literacy, and also organizes events, awards, and programs to support professionals at all levels. In 2013, the School Division of the AAP merged with the Association of Educational Publishers (AEP) to form the PreK-12 Learning Group, which combines AAP's proven strengths in advocacy and legal affairs with AEP's successful programs for the benefit of its members. Read more at http://www.aepweb.org.