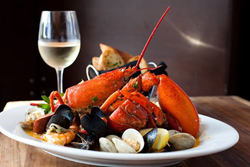 (PRWEB) March 26, 2014
Whatever plans may mark the family's calendar this April 20, GetMaineLobster.com hopes to inspire the Easter holiday weekend with some of their customers' top pick recipes for ushering in springtime and the hope of the colorful, warm days ahead.
GetMaineLobster.com's customers' Top 11 Recipes:
1. Early Spring Lobster Ceviche
Ceviche is a time-honored South American dish that combines fish with seasonings and citrus, creating an irresistible flavor that made it a perennial favorite. Now, Chef Mac Arrington has updated this recipe and created a citrus and soy lobster ceviche that is hardy enough to hold up while there is still a bit of a chill in the air.
"This dish is complex in flavor and texture yet delicate enough to showcase our true love—Maine lobster," says Arrington.
2. Serious Easter Seafood Lasagna
This one-dish seafood lasagna dinner is easy to make and packs a colossal punch—boasting an assortment of seafood paired with creamy and rich cheeses and cut by the sharp flavors of fennel and pernod.
3. Soft Tarragon Scrambled Eggs with Buttery Lobster and Sesame
Soft and creamy seasoned scrambled eggs paired with buttery and rich lobster are near perfection, but add them onto a toasted bagel and brunch becomes heavenly.
4. Savory Baked Stuffed Lobster
This is a very simple and straight forward classic version of baked stuffed Maine lobster with a few fine-tuning steps to trump ham and lamb at the Easter dinner table.
5. GetMaineLobster Florentine with Beurre Blanc
GetMaineLobster Florentine with Beurre Blanc seafood recipe is a rich, elegant entrée and fit for very special occasions. When prepared using exact instructions, it can be one of the biggest crowd pleasers at the holiday table.
6. Get Maine Lobster Citrusy Salad with Wild Arugula
Cool, light, and colorful, this crisp, fresh Maine lobster salad makes a perfect entree or side dish.
7. Grilled Lobster Tails with Lemon Herb Butter
How can food be both light and rich? This meal answers the question. Sweet, rich lobster tails basted with a zesty butter blend to create palatal bliss.
8. Lobster and Asparagus Spring Pasta
Spring means asparagus is in season and it is a customer favorite to blend with lobster and pasta!
9. Easter Baked Lobster Tails
Eggs play a part in Easter – and in this lobster tail recipe too. Combined with peppers and breadcrumbs, it is a version of baked lobster that will most likely offer a new and exciting taste to dinner guests.
10. Lobster Benedict
This best breakfast dish gets a makeover—with lobster, pancetta, tomato and chive.
11. Stuffed Maine Lobster Tail Dinner
This is the classic dinner, yet it is always a meal that adds the elegant, special touch to the holiday table.
For all the recipes above, visit GetMaineLobster.com.
About GetMaineLobster.com
GetMaineLobster.com, a division of Black Point Seafood and Black Point Gourmet, hand-selects the finest Maine lobster, seafood and beef products for convenient distribution throughout the United States. Their passion is to make fresh, quality seafood readily available to customers across the country, which is why they buy from only the most trusted, well-established suppliers to ensure that they receive the finest products available.
GetMaineLobster.com was selected out of the more than four million small American businesses served by Chase bank to represent its new Platinum Business Checking product for its 2013 national advertising campaign.