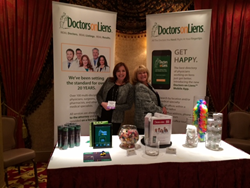 Los Angeles, CA (PRWEB) March 26, 2014
Doctors on Liens, Inc. along with USA Express and Patrick Farber.com were the three main sponsors at the conference held on March 22, 2014 at the Millennium Biltmore Hotel.
Organized by the Consumer Attorney of Los Angeles (CAALA), this always worthwhile event is an great opportunity to meet the future decision makers of the personal injury world. This year, the day-long conference featured a number of seminars which translates to 6 hours of MCLE (Minimum Continuing Legal Education) credits.
Some of the classes included:
•Ethics and the Trial Lawyer by Mike Arias of Arias, Ozzello & Gignac
•Client Relationships & Commencing A Lawsuit by Joseph Barrett of Kabateck, Brown, Kellner
•Written Discovery & Related Issues by Jeffrey Rudman of Rudman Law Firm
•Oral Discovery by Douglas Silverstein of Kesulk, Silverstein & Jacobs
•Law and Motion by Elizabeth Hernandez of Michaels & Lew
•Summary Judgment Motions by Jill McDonell
•Pre-Trial Process by Geoffrey Wells of Greene, Broillet & Wheeler
•The Trial Part I by Michael Alder of AlderLaw
•The Trial Part II by Genie Harrison of Genie Harrison Law
•The Trial Part III by Richado Echeverria of Shernoff, Bidart, Echeverria, Bentley
Doctors on Liens, Inc. was honored to be a part of the event, particularly because of the great service it provides to the legal community. Attendees were grateful for Doctors on Liens, Inc. sponsorship, not only because of the great "goodies" they passed out, but also for introducing them to an indispensable resource that will save their staff significant time and effort.
Attorneys use Doctors on Liens™ as a free resource to help them find doctors working on a lien basis. Doctors on Liens™ has a directory of physicians spanning 30+ specialties across California (including chiropractors, orthopedists, neurologists and psychiatrists, just to name a few), all of whom are skilled in treating patients on a lien basis.