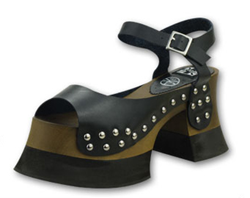 San Diego, CA (PRWEB) March 26, 2014
Hit the festivals this season in these new creations from T.U.K. … Woodies! Featuring a ½ dark brown wood and ½ black EVA sole, these are sure to be your new favorite ride. Sandal Woodies can be paired with some frilly or printed socks for summer concerts or throw on your leather jacket to go with the harness mule and harness boot styles.
Check out the video here from more looks and details on how to win a free pair - https://www.facebook.com/photo.php?v=707606832625298&set=vb.115232468529407.
About T.U.K. Footwear:
Since their start in 1991, the San Diego, CA based footwear company T.U.K. has been creating bold, original footwear for men and women. Footwear made for and inspired by bands, music fanatics, fashionistas, and individuals with eclectic tastes. With their huge range from traditional classics to modern upstarts they are constantly providing creative style with an original edge.
For more information, please visit http://www.tukshoes.com.