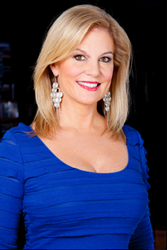 New York, NY (PRWEB) March 26, 2014
If there are any small business owners or entrepreneurs who have not yet heard of Susan Solovic, they will have by the end of this month. Solovic was named to two highly-touted business lists in January 2014- SAP's Top 51 Potential Human Influencers and Twitter's Top 100 Small Business Experts to Follow. Perhaps what is most impressive is that Solovic was named in the top 10 of both prestigious lists.
This comes as little surprise to those who have followed Susan Solovic's prolific career as a best-selling author, keynote speaker, and award-winning entrepreneur who has garnered international recognition for her dynamic innovation and leadership.
Solovic is an Internet business pioneer and regular contributor to a broad spectrum of national and international media outlets including CNN, MSNBC, FOX News, and FOX Business along with local affiliates around the country where she covers/comments on stories and trends affecting small business and entrepreneurship.
She is a New York Times, Wall Street Journal, USA Today, and Amazon top 100 bestselling author and Featured Expert Blogger for, the Wall Street Journal, Constant Contact, Huffington Post and FOX Business. Solovic has authored four best-selling books, which have been translated into multiple languages. They are: The Girls' Guide to Building a Million-Dollar Business, It's Your Biz, The Girls' Guide to Power and Success, and Reinvent Your Career.
Susan Solovic quickly developed a reputation as a leading Internet pioneer largely due to her success as the co-Founder of SBTV.com (Small Business Television), the first video news and information destination site for small businesses. Under Solovic's leadership, SBTV.com expanded into a multi-million dollar enterprise in only a few short years. She was honored with a Stevie Award in 2006 for the Most Innovative Company of the Year (under 100 employees). SBTV.com was voted the Best Investment Opportunity at a venture capital forum in the Silicon Valley. Solovic would soon successfully exit and found Susan Solovic Media in 2010.
The company focuses on booking Susan to speak at some of the top small business events throughout the country where she not only inspires audiences but provides them with valuable tools, tips and techniques proven to grow small business. She also works with a select handful of companies each year providing strategic planning, focused growth plans and insight into how to reach more customers. Bottom line, Susan has one primary goal, and that is to help entrepreneurs build and create sustainable businesses.
Previously, Susan Solovic was the ABC News Small Business Contributor and had a syndicated radio show with a listenership in 30 markets. Solovic hosted a TV feature on PBS called Reinvent Yourself Now: Become Self-Reliant in an Unpredictable World, and created, produced and hosted a television program called It's Your Biz on a Fox affiliate.
As a fervent activist for women entrepreneurs, Solovic has served on the Board of Directors for the Institute for the Economic Empowerment of Women. She served on the National Women's Business Council, which counsels the President, Congress and the SBA on issues affecting female business owners. She is a past member of the Women's Leadership Board at Harvard University and was Vice President of the Board of Directors of WIPP (Women Impacting Public Policy). In 2009, Susan received the Institute for Women's Entrepreneurship Leader of Distinction Award and in 2008 she was the first recipient of AT&Ts Innovator of the Year Award for being a pioneer in a new industry.
Susan Solovic began her career as a news anchor and reporter. Her corporate career took her to the C-Suite level of a Fortune 100 company where she was EVP of International Marketing, where she became the first female executive in the company's Financial Services division.
Susan earned her J.D. from Saint Louis University. She is Counsel Of Counsel for Junge & Mele, LLP in New York City. She currently lives in St. Louis and New York City with her husband and two dogs. She enjoys reading, traveling, exercising and inspiring others to achieve success in all of their life's pursuits.
Please visit http://www.SusanSolovic.com for more information or contact Sheila Stewart at 303-378-2022 or SStewart(at)SheilaStewartPR(dot)com.