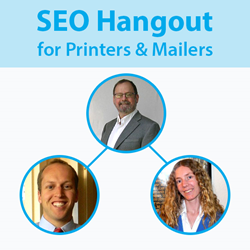 Printers and direct mailers are generally considered to be 20th century businesses, but there's so much opportunity for them to benefit from the new marketing of the 21st century.
Los Angeles, CA (PRWEB) March 26, 2014
Printing and mailing companies in need of online marketing advice should tune in to the 21/20 Marketing Hangout on Google Plus on Thursday, March 27th at 4pm EST/1pm PST. The interactive broadcast focuses on search engine optimization. The discussion will touch on a wide variety of related topics including content strategy, keyword relevance, and 2014 best practices. Regular hosts Richard Dannenberg and Spencer Powell welcome special guest Katherine Tattersfield from PrintFirm.com. Tattersfield joins the panel to share actionable advice gained from her 4 years as a successful inbound marketer in the ecommerce space. All 3 panelists encourage questions from the audience; participants may pick the presenters' brains by submitting questions beforehand or in real-time via Twitter using the hashtag #marketing2120. Although the audience consists mainly of print and mail providers, small businesses from outside the CMYK sector may benefit from this educational session. A Youtube video of the discussion will be available afterwards for those unable to attend the live event.
Dannenberg of DP Marketing Services launched the 21/20 Marketing Hangout series in response to a problem he identified within the printing industry, a lack of understanding with respect to online advertising: "We came up with the 21/20 idea as a whim. Printers and direct mailers are generally considered to be 20th century businesses, but there's so much opportunity for them to benefit from the new marketing of the 21st century. Many of the owners of these businesses are in their fifties and they need a "gentle" introduction to topics like inbound marketing and SEO. The counterpoint between Spencer, the digital native, and my more traditional perspective can get humorous at times. I think that printing company owners can relate to both the cutting edge stuff and to the occasional skepticism of an old-school marketer, and they may pick up an idea or two that they can use in the process."
Dannenberg recognizes that printers need a contemporary marketing resource within their own community. But finding personable, knowledgeable spokesmen printers can trust for online info proves challenging. Luckily, Dannenberg teamed up with Powell of TMR Direct, a passionate digital marketer who specializes in increasing leads and sales (conversions). Powell's search and social media strategies lead his family's mailing business into a period of unprecedented growth. He's confident that other printing and mailing brands will be able to replicate his results with the proper training: "I love the connection between inbound marketing and direct mail in that they are both extremely measurable marketing mediums. Today, smart marketers are leveraging the offline and the online to be more effective. This Hangout gives me a chance to teach people the best ways to integrate digital for higher profits and greater brand awareness."
Tattersfield shares her colleagues' enthusiasm for helping printers cross the digital divide. Under her watch, PrintFirm.com increased annual sales by a whopping 46%! Tattersfield believes the Hangout may clear up confusion about SEO and its impact on a printer's bottom-line: "There are a lot of misconceptions about SEO and I'm eager to set the record straight for my fellow inkheads. SEO is NOT just a bunch of technical stuff you do to your website and call it a day. Proper SEO strives to improve user experience and increase your visibility as well as your reputation in the process. In other words, search and social are not the kind of quick fix solution the snake oil salesmen promise. Creating great content and delivering on your brand promise takes a lot of hard work, but the rewards more than make up for your efforts."
To register for Thursday's discussion or submit a question, please visit TMRdirect.com. To view the replay or watch previous videos, subscribe to DP Marketing on Youtube.
About PrintFirm.com
Printfirm, Inc., trusted leaders in online printing, mailing, and design since 1996.