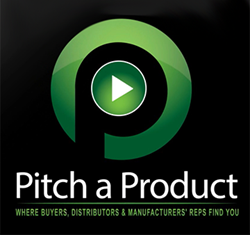 Now busy professionals don't have to dig through piles of submissions to find the next big thing.
Anaheim, CA (PRWEB) March 26, 2014
Pitch a Product is a savvy new website that connects entrepreneurs and inventors to retail store owners, purchasing professionals and independent sales representatives that can help them find retail distribution. Recently launched on March 6th 2014, their mission is simple; to give the average person with an impressive product or invention, the same opportunities to get their product onto store shelves that corporate juggernauts take advantage of every day. The Pitch a Product website spans all industries from clothing apparel to pet supplies, and while many American-made companies typically focus on stateside-only connections, this savvy new website is going global.
In 2012, the US Patent & Trademark office issued 253,155 Utility Patents. However, only a tiny fraction of these new inventions will ever enter a shopping cart. Anyone can have an innovative idea, but very few have the proper connections to make that idea a reality. Pitch a Product is that connection, much like the popular Shark Tank TV show. Its effectiveness is in its message medium…rather than simply having product owners upload a few still images and some text, the website encourages customized video presentations. Users can upload their own video made with a Smartphone or personal camcorder, or take advantage of Pitch a Product's video production services from a high-end Hollywood studio with a professional host.
While other sites focus on crowd funding or finding angel investors, Pitch a Product zeros-in on entrepreneurs who already have manufacturing capabilities and financial backing to fulfill orders. This creates a hotbed of individual innovations for retail store owners, buyers, distributors, wholesalers, and reps to search. Now these busy professionals don't have to dig through piles of submissions to find the next big thing. With a simple click of a button they have immediate access to product video pitches and supporting documents detailing upcoming promotional plans, pricing, competitive information, and more. If they find a product they like, they can call or e-mail the product owner directly for a sample, more information, or to set up a face-to-face meeting.
Pitch a Product Membership is free for retail store owners, purchasing professionals & Independent Sales Reps. Flexible membership plans for entrepreneurs start at just $199 for the first month & $99/mo. thereafter. Additional discounts are offered for 3 month - 1 yr. commitments. For more info go to http://www.PitchaProduct.com.