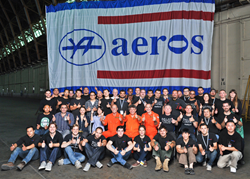 Los Angeles, CA (PRWEB) March 25, 2014
The Aeroscraft has been selected to receive a 2014 Product Leadership Award by the Manufacturing Leadership Council as part of the 2014 Manufacturing Leadership Awards (ML Awards). The Award will be bestowed on June 5th at a gala celebration in Palm Beach, FL.
ML Award nominations are entered into 11 categories and are evaluated and scored by a panel of expert judges. Winners of the product leadership award have introduced disruptive new products that expand or open new markets by satisfying customers in new ways.
"Aeros is proud to be acknowledged for this leadership award alongside our development partner, Mitsubishi Electric, comments Igor Pasternak, CEO at Aeros. "Aeros looks forward to introducing exciting changes in global manufacturing while also introducing new opportunities for commercial logistics, air mobility, humanity and the environment."
About the Aeroscraft: An Aeroscraft is a new type of Rigid Variable Buoyancy Air Vehicle, designed to control lift in all stages of air or ground operations, including the ability to off-load heavy payloads without the need to re-ballast. For the first time in history, an aircraft has been designed to control and adjust buoyant and dynamic lift, creating a new paradigm for global air transportation and logistics. Poised to enhance the air transportation industry, the Aeroscraft will deliver opportunities for business and consumers globally through access to remote locations and by new VTOL cargo delivery capabilities. The key features of the Aeroscraft include a rigid structure, vertical takeoff and landing, and operational abilities at low speed, in hover, and from unprepared surfaces.
About Aeros: Founded 27 years ago in the U.S., the Aeroscraft Corporation (Aeros) has grown from a small aerostat production manufacturer to a leading FAA-certified airship producer and R&D firm for the aerospace industry. Aeros has achieved multiple FAA airship type certificates and operates with an FAA Production Certificate, while featuring a product line that includes advanced airships and tethered aerostats utilized in commercial and government applications throughout the world. Learn more at http://www.aeroscraft.com.
Now in their tenth year, the Manufacturing Leadership Awards honor companies, their technology partners and individuals that are shaping the future of global manufacturing. The Manufacturing Leadership Council will honor 100 world-class manufacturing companies and individual leaders as winners of the 2014 Manufacturing Leadership Awards (ML Awards) on June 5 at a gala celebration that follows the 10th Annual Manufacturing Leadership Summit in Palm Beach, FL. The Manufacturing Leadership Council is the world's first member-driven, global business leadership network dedicated to senior executives in the manufacturing industry. The Manufacturing Leadership Council's mission is to help senior executives define and shape a better future for themselves, their organizations, and the industry at large. For more information, visit http://www.MLCouncil.com.