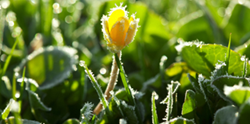 When is the best time to begin controlling weeds in my lawn and landscape?
Monticello Indiana (PRWEB) March 27, 2014
This week temperatures in our area are fluctuating from highs in the lower sixties to highs in the upper twenties. Welcome to early Spring in north central Indiana! This time of year we are all eager to be able to get outside and begin our spring clean up chores. One question we are asked frequently at Norway Gardens is "When is the best time to begin controlling weeds in my lawn and landscape?' Here is some general information that will be helpful to you when trying to control weeds.
There are two basic kinds of weeds we need to control. First are perennial weeds. They grow from roots, bulbs, or rhizomes that winter in the ground and produce new weeds each year. Included in this category are weeds such as clover, ground ivy, and wild violets, all of which can be difficult to eradicate. The second category includes annual weeds that grow from seeds, such as crabgrass, purslane, and oxalis. Dandelions actually fall into both categories; their roots winter and produce plants in the spring but the flowers produce seeds that blow all around and quickly germinate into new plants.
Perennial weeds must be killed while annual weeds that grow from seed are best controlled by weed preventers. Perennial weeds need to be sprayed when they begin to green up and begin growing. This will happen when snow is gone and our days begin to consistently register temperatures in the forties and fifties. Crabgrass and other seed-grown weeds begin to grow when ground temperatures reach 55 degrees and stay there for three days. Since ground temps take longer to rise, this will occur some time after air temps reach 55. Usually this occurs close to Easter -- early to mid April.
This year we have two new products for fighting tough weeds. Hi-Yield Turflon Ester Ultra, containing Triclopyr, the very best killer of tough weeds such as ground ivy. This is the same active ingredient found in brush killer but Turflon Ester Ultra is created for use in lawns. For those who had severe problems with crabgrass or other weeds that grow from seeds last year, we have a new Fertilome product For All Seasons Lawn Food plus Crabgrass and Weed Preventer. This contains Promiadine, which works really well on crabgrass and other grassy and broadleaf weeds.
Soon it will be time to apply these products. We want you to be prepared for the weed battle soon to start. Rest assured that we at Norway Gardens can help you have a lawn and landscape that are the envy of your neighborhood!