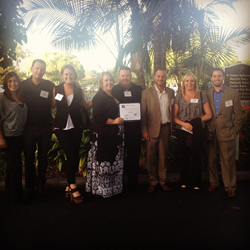 Sandra Brown's ability to successfully manage the financials of the entire company has allowed Sullivan to execute on all contracts while retaining good relations with vendors, suppliers, and subcontractors.
San Diego, CA (PRWEB) March 26, 2014
San Diego-based Sullivan Solar Power's Sandra Brown has been recognized by the San Diego Business Journal as a finalist for 2013 CFO of the year. Brown has been an integral part to the growth of Sullivan Solar Power, and managed the cash flow as the company grew from 70 employees in 2012, to 115 employees in 2013.
Sandra Brown joined the Sullivan family several years ago and has been an integral to the progression and success of Sullivan Solar Power. The locally headquartered firm has been in business for ten years and is the top installer of solar power systems in the San Diego Gas and Electric (SDG&E) utility territory, according to California Solar Initiative data.
"I am honored to have been recognized amongst so many great finance leaders in our great San Diego region," said Brown, "I feel blessed to achieve the level of success that we have at Sullivan Solar Power."
Over the last fiscal year, Brown was managing 800 solar power system installations at all three of Sullivan's offices. Brown oversaw increased revenue over the year from $17 million to $27 million, supported by an accounting staff of only two. While Brown has been an executive at the firm, Sullivan Solar Power has received numerous awards of excellence and received recognition for being one of the fastest growing private companies in the nation.
"Sandra Brown's ability to successfully manage the financials of the entire company has allowed Sullivan to execute on all contracts while retaining good relations with vendors, suppliers, and subcontractors," said Daniel Sullivan, founder and president of Sullivan Solar Power, "This excellent management has allowed employees to focus on capturing more business and delivering projects on time."
About Sullivan Solar Power
Sullivan Solar Power is a turnkey solar system provider that delivers solar electric projects from concept to completion with offices in the Orange County, Inland Empire and San Diego. The company has installed more than 18 million watts of solar power ranging from residential to large commercial and municipal systems. Sullivan Solar Power has a longstanding A-plus rating with the Better Business Bureau, with no complaints filed since its founding in 2004. The firm has been named one of the nation's fastest growing energy companies by Inc. Magazine and services clients throughout Southern California. Regardless of project size and scope, Sullivan is committed to delivering the best products provided by the most qualified professionals to every customer. Visit sullivansolarpower.com or call 1.800.SULLIVAN for more information
###