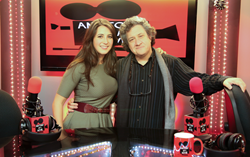 Los Angeles, CA (PRWEB) March 26, 2014
Rob the Mob director Raymond De Felitta appeared on Maria Menounos' vodcast Anatomy of a Movie to give a candid interview about his new "fiasco flick", Rob the Mob and a behind the scenes look at what it is like to be a director.
Based on a true story, Rob the Mob follows Tommy (Michael Pitt) and Rosie (Nina Arianda), two lovers that decide the best way to get a few bucks is by robbing the mafia. Mixing an action packed story with a talented cast, that also includes Andy Garcia and Ray Romano, Rob the Mob is a thrilling tale that can't really be confined to a common genre. Instead De Felitta labels it with a new genre: the "fiasco flick." Saying that while knowing it isn't going to work out, he "loves watching the madness of the pursuit."
De Felitta expressed that the joy of this film was working with the incredible cast, and he set the record straight on working with Michael Pitt. It has been rumored that Pitt is extremely difficult to have on set, but Raymond De Felitta defends that for Rob the Mob, "Well I'm sure what a lot of people would love to hear is that the hardest job was working with Michael Pitt... I keep getting asked by people 'was Michael Pitt difficult?' I'm like I'm not really sure where this happened… The best part of the experience for me was working with Michael, you know, and Nina. They were the Movie!"
De Felitta dives into the process behind the making of this film, and explains some of the deeper meanings of the story. Rob the Mob is set up to be quite the wild ride, and fans can catch it in theatres March 28th, 2014.
Links to Raymond De Felitta's appearance can be found on Anatomy of a Movie's various platforms:
Website - http://anatomyofamovie.com/2014/03/24/raymond-de-felitta-interview-anatomy-of-a-movie/
YouTube - http://anatomyofamovie.com/2014/03/24/raymond-de-felitta-interview-anatomy-of-a-movie/
iTunes: https://itunes.apple.com/us/podcast/anatomy-of-a-movie/id730241106?mt=2
About Anatomy of a Movie:
Anatomy of a Movie (AOM) is a vodcast series produced by Extra host Maria Menounos and filmmaker Keven Undergaro that features in depth discussions and break downs of various movies. Each AOM podcast centers upon one movie title where a panel of hosts dissect every aspect of that particular film from casting to acting, writing to directing and cinematography to editing. AOM hosts are comprised of professionals from differing facets of the filmmaking industry. AOM is not a a movie review or critique. Rather it is a movie companion, offering deeper insight into the film.