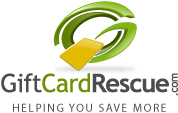 Ellicott City, Maryland (PRWEB) March 26, 2014
GiftCardRescue.com, the Inc. 500 company that enables consumers to purchase gift cards at a discounted rate and sell unwanted gift cards for cash, today announced an expansion to their already robust merchant list. The company has added 65 new merchants to their list of accepted gift card brands. The new merchant expansion is an effort to better adjust to the ever changing secondary gift card market and meet customer needs.
"Periodically updating our merchant list is not only important to better serve our customers and suppliers, but also for us to stay competitive in the gift card market," says Business and Marketing Manager, Carrie Brenner. "Our goal is to help our customers save more at the places they shop the most. To achieve this goal, it is our responsibility to stay up to date with market trends."
Some of the new merchants now accepted and sold on GiftCardRescue.com include Zara, Pandora Jewelry, Lilly Pulitzer, Lush, Oakley, Vera Bradley, The Container Store, Wilson's Leather, Z Gallerie, Teavana, Bruegger's Bagels and Levi's to name a few.
GiftCardRescue.com is a leading gift card exchange site, it's main focus is helping consumers save more; offering up to 35% off on discounted gift cards to over 500 national merchants, as well as, up to 92% cash back for unwanted gift cards. Gift Card Rescue guarantees all transactions and is backed up by the best customer support team in the industry.