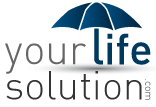 It's not enough to simply guarantee the privacy and confidentiality of my own site, but it's also highly beneficial to Internet users to guarantee that we're not colluding with those who play fast-and-loose with other's private information.
Chicago, IL (PRWEB) March 26, 2014
YourLifeSolution.com, a service which provides instant online life insurance quotes without requiring personal information from Internet users, is releasing their enhanced but only slightly modified privacy policy. The service is not only reaffirming their guarantee that information entered within their site will not be shared or sold to other services, but that they will closely audit sources of new prospects to see to it that they operate with a similar integrity. "It's not enough to simply guarantee the privacy and confidentiality of my own site, but it's also highly beneficial to Internet users to guarantee that we're not colluding with those who play fast-and-loose with other's private information," said Eric Smith, the founder and independent life insurance agent behind YourLifeSolution.com.
YourLifeSolution.com's future plans involve developing a YouTube video campaign and various informational PDF's which the service expects would increase the quality of information provided to prospects while simultaneously increasing the value of prospects the service works with.
Internet users interested in receiving instant online life insurance quotes are encouraged to visit YourLifeSolution.com, or to contact Eric Smith at 888.374.2764.