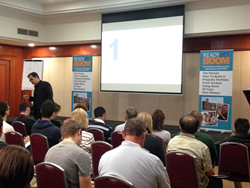 ...increased activity also drives home prices up – making it more difficult for smaller players to grow their portfolio...
(PRWEB) March 28, 2014
HSBC revealed that Australia is a hot spot of investment property for affluent Indonesians, Malaysians, Singaporeans, and Indians, (Abc.net.au reported on 24 February 2014).
In detail, the study exposed that Australia's the top property investment destination among its Indonesian respondents, while 26 percent of the Malaysian respondents admitted to owning properties in the "Land Down Under."
"When it comes to foreign investments, the Chinese have led the pack these past few months. But the truth is that there are a lot more foreigners who consider our country as a great place where they can invest their money in, and this is a good thing since they're pumping capital into our local economy and this gives local businesses a boost," said Rick Otton, owner and director of We Buy Houses.
"On the other hand, there are those concerned that this development may potentially lock out local investors who do not have the liquidity to compete with foreign investors in the property market. Not to mention, increased activity also drives home prices up – making it more difficult for smaller players to grow their portfolio," he followed up.
Despite the concern, Mr. Otton assured local investors that they could still maximise and grow their property portfolio by using seller finance strategies.
"We've been told that there is only one way to buy a house, so people just got stuck into the tradtional banking system mind set. What they don't know is that it's possible to buy Australian real estate even without new home loans or a boat load of cash if they enter into flexible payment terms with the seller. Remember, the more options you create for yourself, the more opportunities become available to you. And this is what seller finance terms are all about – providing you options in how to transact investment properties and allow you to generate passive income from them," he shared.
For more info on how to grow a property portfolio using Seller Financing, visit http://creativerealestate.com.au/freepack/ today to get your copy of Rick Otton's limited edition Power Property Profits Pack.
About Rick Otton
Australian property investment specialist, Rick Otton, has been developing, sharing and teaching his innovative real estate strategies for 23 years. As the founder and CEO of We Buy Houses, which operates in the US, UK, Australia and New Zealand he is known for introducing cutting-edge techniques that have enabled previously disenfranchised people to get out of the rental cycle and into their own homes.
His innovative low-risk, high-reward approach to Australian real estate investing has been featured in a variety of television programs and magazines, including Today Tonight, Hot Property and Australian Property Investor. His real estate book, published in 2012, ''How To Buy A House For A Dollar', voted by Money Magazine and Dymocks Book stores as one of the Top 10 Most Popular Finance Titles for 2013.
As well as conducting free seminars, workshops and conferences in the UK and Australia, Mr Otton releases a weekly podcast on iTunes, Creative Real Estate. In these he shares examples of real transactions, and you can listen to his students share their own experiences using his strategies.
Go to CreativeRealEstate.com.au to listen to Rick's free podcasts.