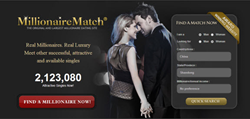 Los Angeles (PRWEB) March 30, 2014
While many women are focused on athletes or celebrities to pick who's hot,
MillionaireMatch.com female members focus on something more sizzling. They choose the hottest Billionaires for 2014.
Saying they have money is an understatement. These men have lots and lots of money. Did we mention they are billionaires? But that's not all, they have attributes that are outstanding and qualified them to be voted on by members of MillionaireMatch.com.
1. Number one on their list is Dustin Moskovitz. He received 23.15% of the votes. According to Forbes Magazine his net worth is $6.8 Billion. He is only 29 years old. According to members, this youngest billionaire looks great since he cut his mushroom hair. "He looks cute, right?" one young attractive female member says. Having a billion dollars at just a mere 29 years of age is more than just hot. It's smoking hot.
2. Next in the number two slot is Tom Gores with 20.38% of the votes. His net worth is $2.9 billion and he's been working on it longer. Mr. Gores is 49 years old. This mature man, with good looks among the billionaires, still attracts about 13% of young females, even though he has been married.
3. Last but of course not least as far as hot billionaires goes is John Arnold with 21.33% of the votes. His net worth is $2.9 Billion and he's a young man at 40 years old. This man has a good heart and demonstrates responsibility for the society. He and his wife run the Laura and John Arnold Foundation and have already given away $1.5 billion. That's hot!