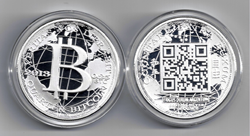 Bitcoin Silver Specie
San Diego, Ca (PRWEB) March 26, 2014
Precious Metals are the closest physical commodities that mimic the digital properties of Bitcoin. Earlier this week Agora Commodities reported that they have done over $10 million in Bitcoin sales in a little under a year since they began excepting the crypto-currency.
What's interesting is that Bitcoin users not only want to trade their digital commodity for physical ones but that they are buying the silver that directly represents them and their rise to financial independence.
The Bitcoin Silver Specie is one troy ounce .999 fine silver. Holders of the Silver Specie can scan the QR code located the obverse of the silver round and instantly know the value of the silver in Bitcoin. The Bitcoin Silver Specie serves to directly link the world of digital commodities to the physical world we all inhabit.
Agora Commodities is the largest U.S retailer of the Bitcoin Silver Specie. Buy your silver of the future today by visiting http://www.agoracommodities.com