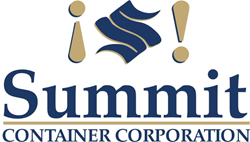 Through this transition our unified team at Summit Container is focused on retention and enrichment of relationships with existing clients while expanding our ability to provide global end-to-end packaging and container solutions. - Adam Walker, CEO
Monument, CO (PRWEB) March 27, 2014
Summit Container Corporation (Summit Container), has been acquired by 127 Summit Holdings, an investment holding company founded by Richard Powell and Adam Walker. Summit is a contract manufacturing and packaging company specializing in Electrostatic Discharge cartons for circuit packs, set top boxes, assembly, fulfillment and "just in time" delivery services. Summit serves a range of Fortune 500 clients in the telecommunications, cable, electronics, automotive, aerospace, beverage and general manufacturing industries. With headquarters in Monument, Colorado, Summit has additional facilities in California, Oregon, Pennsylvania and Texas.
"Summit Container is a company we've watched, respected and admired for their leadership in the corrugated packaging industry," said Adam Walker, a co-founder of 127 Summit Holdings and the new CEO of Summit Container. "I look forward to working closely with our talented group of professionals at Summit to help the company reach new heights. Through this transition our unified team at Summit Container is focused on retention and enrichment of relationships with existing clients while expanding our ability to provide global end-to-end packaging and container solutions."
Walker is an accomplished business owner, executive and industry veteran with over twenty years of corrugated packaging expertise serving technology, beverage and automotive industries. Walker co-founded and led Homestead Packaging Solutions, an innovative corrugate manufacturer with 250,000 Sq. feet of manufacturing facilities in Tennessee and Michigan. Recognized for his leadership in the community, Walker currently serves on the Board of Directors of the Georgia Minority Supplier Development Council, Gwinnett Technical College and the Georgia Small Business Center. Walker is also a member of the Young Presidents Organization. Prior to his entrepreneurial career he had a successful career in the NFL that included being a member of the Super Bowl XXIX Championship San Francisco 49ers team.
"This represents an exciting time for the next chapter of Summit Container's growth," said Summit's previous owner and CEO, J. Joe Mena. "Adam is a committed, innovative leader in our industry with a vision and plan for Summit's growth and success." Mena, who expertly led their growth over the past 25 years, will be staying on with the company as a senior executive and consultant over a two-year period to ensure a seamless transition of leadership, business continuity and high-touch customer relationship management. All other senior executives at Summit will remain with the company post-acquisition to bolster Summit's strong growth plans.
Summit Container is also a committed corporate citizen that creates vocational opportunities for adults with disabilities and the underemployed. By partnering with organizations such as Handi-Crafters of Thorndale, Pennsylvania. Summit Container uses a business model, which expands their workforce with clients from non-profit organizations who provide vocational training and employment for adults with disabilities or disadvantages to work in their fulfillment and assembly locations. Summit Container will continue and expand their participation with non-profits in the communities in which it operates.
About Summit Container Corporation:
Founded in 1984, Summit Container Corporation is an award-winning manufacturer of corrugated packaging. With Corporate Headquarters in Monument, Colorado, Summit is a leading provider of Electrostatic Discharge (ESD), set top box and telecommunications corrugate packaging. Summit provides end-to-end fulfillment services specializing in "just in time" delivery solutions. Summit Container Corporation is ISO 9001:2008 certified for Design and Manufacture of Custom Corrugated and ESD Corrugated Packaging for Commercial Industries. Summit is also recognized as a Corporate Plus Member of the National Minority Supplier Development Council. For more information visit http://www.summitcontainer.com.