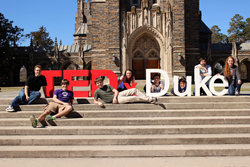 Raleigh, NC (PRWEB) March 26, 2014
Imaginovation, a web design and software development firm in Raleigh, NC was selected from the TEDx committee at Duke University to implement the TEDxDUKE 2014 website to promote and help sell the event to students and local community. The TEDx committee chose Imaginovation from the stiff competition of Raleigh web development companies because of their quality of work, portfolio, passion, and shared vision for the website and event. The TEDx committee at Duke that chose Imaginovation is combined with a set of individuals who have a passion for collaboration and finding similarities between people to solve and overcome real-problems and challenges. TEDxDUKE saw Imaginovation as the perfect team for successfully creating the new website because of their desire to promote and inspire that vision to the community.
"In the spirit of ideas worth spreading", TEDx (x=independently organized TED event) is a program of local, self-organized events held across Universities and educational institutions all over the world, which bring people together to share a TED-like experience. TED is a nonprofit organization dedicated to "Ideas Worth Spreading" and has drastically grown worldwide to support those world-changing ideas with various initiatives, and have invited the world's leading thinkers to speak at the conferences such as Bill Gates and Sir Richard Branson.
The website design was incredibly vital in selling tickets and maintaining a sense of credibility to the Duke Students and local community that were possibly attending the event. TEDxDUKE needed a website that was eye-catching, yet simplistic, creative, user-friendly, and reflective of the modern day design trends. In which Imaginovation successfully executed with ease in a matter of a few weeks. The website along with other avenues of advertising at the University achieved its goal of selling out all 600 tickets. The creativity, collaboration, and development experience from both teams were incredibly happy with the result on the day of the event on March 22nd, 2014. To browse the TEDxDUKE website, visit http://www.tedxduke.com.
Imaginovation was pleased and honored to have been selected by TEDxDUKE to develop the website for the event as they really support local clients to spread knowledge for the greater good. Imaginovation offers a wide array of services outside of web design such as software development, mobile application development, and full-fledged digital marketing campaigns including SEO. To learn more about who they are, visit http://www.imaginovation.net.