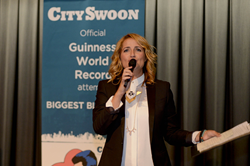 "36% of the matches gave each other the highest rating, stating that they wanted to see each other again" says Louise O'Connor of CitySwoon.com
Sydney, Australia (PRWEB) March 28, 2014
The event, held by the prestigious matchmaking site CitySwoon.com, saw over 700+ single Sydney-siders dressed to kill and swooning at the sight of one another as they packed out the gorgeous Northern Foyer of the Sydney Opera House for a night to remember.
"The record we set out to beat, for the biggest blind date, was 654 people set on September 7th, 2013, in Chicago Illinois," says CitySwoon matchmaker Louise O'Connor.
Guinness World Records have now officially confirmed the record as being 342 couples (684 people) participating at the Sydney Opera House, Sydney, New South Wales, Australia, on 21 February 2014. See the dating record here.
FOR PHOTOS FROM THE EVENT: CitySwoon.com's Biggest Blind Date
In order to verify the record, the mass, hour long date was watched over by 17 independent witnesses and videotaped throughout. There were strict rules set by Guinness as part of the record attempt including the provision that the dates must all be one-on-one and last for one hour. But despite the officialdom, romance was palpable. Couples sat deep in conversation on the stairs, some stood out on the balcony gazing out over the starlit harbor and bridge. "A first date has a lot of emotions associated with it and to have that multiplied by hundreds and in such an extraordinary setting... it was awe inspiring to watch" says Louise.
The feedback collected from the participants is absolutely astounding. Louise reports that "36% of the matches gave each other the highest rating stating that they wanted to see each other again. Participants were also matched, more loosely, to the other people in their area. A whopping 72% found themselves interested in someone they'd met on the night."
While most couples met for the first time that night, there were a few reunions: "We matched one lady with the 'mate' she'd brought to the event. I guess they were compatible," says Brett Couston of Cityswoon; "We matched two ex work colleagues who had known each other for over nine years but never made a move. We even matched an ex girlfriend and boyfriend of three years – what are the chances?"
"I'm so excited to have been a part of such a history making event!" says MC and host for the night, Bianca Dye. "The night was an hilarious success! Who knew there were so many fabulous, brave, single people in Sydney? Can't wait to hear about future proposals from the world's biggest ever date night!"
ABOUT CITYSWOON
CitySwoon.com is a dating site with a real difference. Online interaction is based around Dates that the members either create or join. Members meet up on their Dates so that after meeting in person, they give feedback and the system learns their tastes to suggest event better matches.