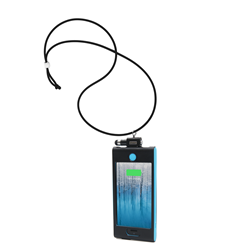 Dallas, TX (PRWEB) March 26, 2014
The nearly 13 million individuals who received an iPhone 5C this past holiday season may already be starting to see signs of wear and tear on their new smartphone. The latest release from iHangy, the iPhone 5C Case with Lanyard Necklace, can help them protect their smartphone from drops, bumps, cracks and scratches with its heavy-duty, shock-absorbent construction.
According to a March 2014 Yahoo! UK (http://uk.news.yahoo.com/apple-iphone-5c-outsold-flagship-android-windows-phone-123100950.html#ogzLTVG) news report, the "Apple iPhone 5C outsold flagship Android, Windows Phone handsets last Christmas." Indeed, after Santa paid a visit, an estimated 12.8 million people were the new owners of an iPhone 5C. To help all these new owners protect their holiday present, Apple accessories innovator iHangy has just released an iPhone 5C Case with Lanyard Necklace that is not only made of heavy-duty materials but also absorbs shock.
For more information on how an iPhone 5C Case with Lanyard Necklace can help safeguard from harm the iPhone 5C Santa brought, contact iHangy's Palki Kochar. To learn more about the new smartphone case, visit the manufacturer on the web at http://www.ihangy.com/category-s/1843.htm.
###
CONTACT INFORMATION:
iHangy
13650, TI Blvd., Suite #309
Dallas, TX 75243
(877)676-0877