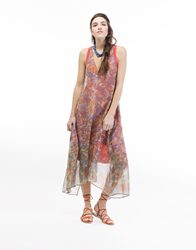 Producing one-of-a-kind art that is wearable is no easy feat!
New York City, New York (PRWEB) March 26, 2014
Step Into Spring with Independent Design Brand VallarinoSaltonstall and Bhava footwear.
For the first time, designers Vanessa Vallarino and Hattie Saltonstall are coming out of their studio to interact on a personal note with customers.
With a harsh winter behind us and spring and summer frolicking ahead, Brooklyn based VallarinoSaltonstall is set to bring its sustainably-minded line to RSPOP, the revolving pop-up storefront in midtown Manhattan. Timeless silhouettes paired with vibrant injections of color will fill the shop, alongside hand-picked, made in the USA accessories, ranging from hats to footwear.
The VallarinoSaltonstall Pop-Up will be the brand's initial introduction to boutique retailing, wherein customers can experience unique, handmade items. It's a true collaboration of American made craftsmanship with on-trend, packaged looks for the season. The month long pop-up store will deliver a one-stop shop for perfect weekend getaways. Themed looks will include: Garden Party ensembles with long, airy maxi dresses; Day to Night shifts with Chiffon Kaftans, and Sultry Evenings with A-line draped tanks in eye-catching deep hues.
VallarinoSaltonstall was founded with a clear objective to create extraordinary, sophisticated apparel with unique hand painted fabrics and unconventional tailoring. This April, we invite you to meet the duo behind the brand and take home a piece of wearable art to add to your wardrobe collection.
The Quick 411:
Who: VallarinoSaltonstall Pop-Up Shop
When: April 3-30th, 2014
Where: RSPOP Shop at 501 Lexington Avenue, NYC
Trains: 4,5,6,7 to Grand Central or the E,M,6 to 51st Street
Hours: Monday-Friday 10am-8pm; Saturday 11am-7pm; Sunday 12pm-7pm
VIP Opening Reception on Thursday, April 3rd from 6-8pm
Media Inquires: pr(at)lionesquegroup(dot)com
Producing one-of-a-kind art that is wearable is no easy feat, but designers Vallarino and Saltonstall do it effortlessly. Mark your calendar to discover how this April.
More on VallarinoSaltonstall:
Almost 10 years ago, as students at Savannah College of Art and Design we shared a dream of creating our own clothing line that would represent our outgoing, artistic personalities.  After SCAD, we took divergent but complimentary paths, each learning the rigors of the business in New York City: Vanessa in textile/print design at Li & Fung, and Hattie in production at Badgley Mischka. Today, we are thrilled to partner and put our dreams into action with the creation of Vallarino Saltonstall. Visit http://www.vallarinosaltonstall.com
BHAVA is a women's fashion shoe brand founded by designers Francisca Pineda and Rushali A. Sanghani. The duo first met in 2006 while collaborating on runway accessories for Cynthia Rowley in Hong Kong. Bhava is named after the designers' shared devotion to purity and consideration for others, the highest form of Bhava. This collection sets a new standard in footwear design by sourcing the highest quality hand-woven, organic, recycled and cruelty free components. The Bhava aesthetic represents timeless elegance with a dose of ingénue charm. Our mission is to create a harmonious footwear experience, as in tune with our environment as our spirit.
More on THE MARKET:
THE MARKET at the Roger Smith Hotel (co-founded by John Knowles and Lionesque Group's Melissa Gonzalez), is a unique pop-up retail and marketing program. THE MARKET currently consists of five street-level spaces designed as revolving pop-up spaces, creating opportunities to increase brand awareness and provide a storefront presence in midtown Manhattan, NYC. For more information, please visit http://www.themarketatrshotel.com