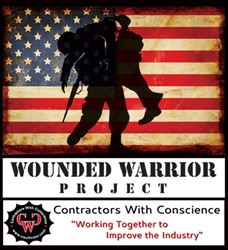 We Support our Veterans, and Wounded Warriors
Los Angeles, California (PRWEB) March 26, 2014
The 2nd Annual CWC Golf Tournament hosted by Contractors With Conscience will raise money for the Wounded Warrior Project. The event takes place Sunday April 6th from 7:00am to 4:00pm at Los Robles Greens Golf Course in Thousand Oaks. The fee of $125 includes a round of golf, boxed lunch, and dinner following the tournament. The event will feature on the course contests and prizes including a vehicle donated by Kemp Ford. There will also be a silent auction and raffle.
Come out and join friends of the community, veterans, and wounded warriors as we raise money for a very worthy cause. 100% of the proceeds will go to Wounded Warrior Project, to help ensure that their sacrifices do not go unnoticed nor without gratitude. For more information about how you can help through donation or sponsorship and to register for the golf tournament, please go to http://www.CWCFinder.com or contact Mike at (818) 383-9653.
"At Barcelona Enterprises we support our community and specially our local law enforcement. It is an honor to partner with the Los Angeles County Sheriff's Dept to help support our military Veterans and wounded warrior," Alan Semsar CEO Barcelona Enterprises. While most businesses worry about their debt to equity ratio, Semsar focuses on his social contribution to responsibility ratio.