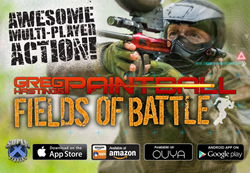 Seattle, WA (PRWEB) March 26, 2014
Super X Studios LLC, the award winning Seattle-based video game developer, announces that its hot new FPS shooter game Fields of Battle is available now on all Android, iOS, Kindle devices and OUYA. Taking advantage of intuitive motion and gesture controls that mobile devices now provide has brought a truly immersive experience to this latest game in the Greg Hastings Paintball game franchise. Greg and Super X Studios creatively maintain the authenticity of the sport of paintball, which has millions of fans worldwide, and added a touch of gaming fun factor to make this a truly compelling first-person shooter game. Continuing to innovate, Fields of Battle now brings console-level simulation to mobile gaming with realistic soft-body bunker physics.
Fields of Battle is available for free download at:

With a player base of over 2 million in under a year, Fields of Battle brings a constant, fast paced, competitive experience! With user reviews like… "Awesome game Super awesome game. I love to play paintball and now I can play it on my phone" - Andrew B., and…"Five Stars for the Best Paintball Game On Mobile! This game is so amazing with the gyro controls. The whole tilting/leaning is perfect! This game has given me the best paintball experience so far next to the real thing. Worth the download and fun to play!" Brandon C. With a rating of 4+ stars across the board, this 10 year-old franchise is truly becoming a staple in the first-person shooter category.
Combining Greg Hastings' 27 years of paintball experience, with his and Super X Studios innovations in development, Fields of Battle is the real deal when it comes to family friendly paintball combat. Whether a paintball player or a first-person shooter fan, Fields of Battle satisfies any players desire to blast the competition. With ground-breaking motion and gesture based controls including sliding, diving, leaning out from cover, throwing grenades, and more, Fields of Battle takes the mobile shooter experience to the next level.
Think you know shooters? This is real paintball combat - one hit, one elimination! Players manage their gear, use cover, adjust for windage, and angle the shots. There's no auto-aim here, it's pure skill and PURE action! Instant leader-boards let participants play locally but compete globally! Players compete in real-time against dozens of other players as they battle neck-and-neck for the high score in ever-changing events.
Additional Highlights:

Free to create your character and start playing online.
Participate in a persistent online competitive world that is constantly changing.
Compete in live online events against dozens of other players in real time.
Play at REAL locations (and a few fantasy ones) all over the world, at more than 60 massive and authentic paintball fields.
Customize your character and upgrade with tons of REAL gear.
An amazing arsenal of customizable weaponry, including automatic, burst mode, mag-fed, MilSim, and Speedball markers, and don't forget the pain grenades!
Intuitive motion and gesture controls with full HUD and control customization.
Full 3D graphics, including detailed environments, shadows, multi-level structures,
outdoor and indoor environments, and more.

Challenging weather - play in the sun, the rain, fog, and wind.
FOB is compatible with most 3rd party controllers for a serious console experience!
Fields of Battle is more than a game it also presents Friday Night Fight, THE world's largest paintball competition. Every week, thousands of player's battle against each other for cash, prizes and top scores! With a mix of brand new maps, and fan favorites, Friday Night Fights is a competitive hit! At years end, the top 50 weekly winners will battle it our for $5000.00 cash and even more incredible prizes from Tippmann, GI Sports, R7 USA, MHL, DELTA 6, EXALT, and RAP4
Full game details, game trailer and screens can be found on the official site at http://www.gregredhastings.com, https://www.facebook.com/NJNinja, or https://www.facebook.com/GregRedHastingsCOM?ref=hl.
About Greg Hastings
During Greg Hastings' 27 year paintball career, he has competed all over the world and notched many wins with championship teams such as Ground Zero, Bob Long's Ironmen, XSV, Brimstone Smoke, and NJ Authority. He is a true master of speedball, woodsball, and every format in between. Greg's passion for video games started in the late 1970's while mastering coin operated shooting games such as Asteroids, Defender, and Centipede. This passion came to a pinnacle while being stationed on the nuclear powered fast attack submarine USS Gato, where he mastered "real" video games as a medal-winning SONAR Supervisor during his six year tour in the US Navy. Greg earned two Southwest Asia Campaign Medals for his time spent in the combat zone during the first Gulf War, and also received a Navy Achievement Medal for being "The best SONAR operator ever inspected." Since then, Greg has dedicated himself to creating the most fun, best-selling paintball video game franchise that bears his name. He can be found this season on his Tour of Duty 2014. Find out more about Greg here: http://www.GregRedHastings.com - http://www.Facebook.com/NJNinja - http://www.YouTube.com/NJNinja07.
About Super X Studios LLC.
Seattle-based Super X Studios LLC started making games in 1998, winning 4 Independent Games Festival awards including 2003 Game of the Year. Our studio is a registered developer on all three console platforms – Wii, Xbox360, and PlayStation 3 – and has shipped games on all three platforms as well as Windows. Our cross-plat- form proprietary 3D engine has seen more than 12 years of continuous development and has served us well in over half a dozen titles. Our games such as Greg Hastings Paintball 2, Wild Earth, and Far Gate have been published worldwide by top-tier publishers such as Ubisoft, Majesco, Codemasters, and Empire Interactive. http://www.superxstudios.com