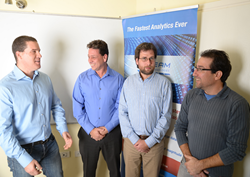 SQream DB achieves 100x cost-performance analyzing 18 billion call data records vs. competing high-performance solutions at Orange Silicon Valley
San Jose, CA (PRWEB) March 26, 2014
Israeli startup SQream Technologies announced today the execution of a variety of SQL queries on a single NVIDIA GPU accelerator on over 18 billion anonymized call data records with European telecommunications giant Orange – the equivalent of four months' worth of multimedia IP traffic. The announcement was made during the 2014 NVIDIA GPU Technology Conference (GTC), showing how a GPU-accelerated database exceeded the performance of a multimillion dollar specialized solution from a leading vendor.
The GPU-accelerated solution offered by SQream Technologies consists of a single server with one NVIDIA® Tesla K40® GPU accelerator, making the SQream DB infrastructure cost far less than existing platforms, while providing faster results and creating a 100x cost-performance ratio. This groundbreaking big data platform will allow enterprises to achieve analytics once considered unattainable, providing business agility to stakeholders. SQream Technologies is currently engaging with Orange, along with several other worldwide telecommunication providers.
"Utilizing the SQream DB has allowed Orange Silicon Valley to benchmark in its labs the querying of larger data sets consisting of 18 billion call detail records (CDRs) against a range of other approaches using many servers or CPUs. In these tests, we found that it allowed such procedures in a shorter amount of time, with much less hardware, and therefore at a lower cost," said Pascal Déchamboux, Director of Software & Technical Architecture of Orange Corporate IT.
According to Ori Netzer, vice president of products at SQream Technologies, "Data traffic growth being generated from mobile devices has created a surge of traffic on telco/ISP data networks. Analyzing this traffic is already a major challenge for telcos and ISP network providers seeking network management and optimization improvements to meet increasing customer requirements. An effective Big Data solution must be put in place, especially considering the fact that worldwide IP traffic today is already approaching two exabytes per month, a number which is expected to double every two years with the possibility of exceeding 10 exabytes per month by 2019."
The SQream DB offers a cost-effective, hassle-free business solution for companies looking to achieve fast Big Data analytics. It allows organizations to:

Achieve Big Data analytics with 50 percent less hassle without any data modeling or indexes
Save on hardware cost, energy use and datacenter floor space
Experience 20x faster performance in terms of query processing and ETL runtime
"We have basically created a datacenter in a box and we are currently making our beta product available to more customers," said Ami Gal, CEO of SQream Technologies. "Orange Silicon Valley is an important innovation partner in exploring technology frontiers in Big Data. We are proud to have such an esteemed telecom's innovation center working with us and we look forward to working with other leading enterprises."
"Enterprise organizations around the world are increasingly adopting GPU accelerators to help address their largest and most complex computing challenges," said Sumit Gupta, general manager of the Tesla Accelerated Computing Business at NVIDIA. "SQream's success accelerating call data record analytics underscores the broad applicability of off-the-shelf GPUs to power next-generation big data analytics workloads in telecommunications and similar fields at a fraction of the cost of competing solutions."
About SQream Technologies
SQream Technologies is a high-tech startup specializing in Big Data and GPU technology. SQream's robust database combines modern GPU (graphic processing unit) technology with the best practices in today's Big Data platforms, providing clients with up to 100X faster insights from Big Data in a cost-effective manner.
http://www.sqreamtech.com
http://www.sqreamtech.com/media_kit.asp
Media Contact
Ami Gal, CEO and Co-Founder
SQream Technologies
32 Tuval St. Ramat Gan, Israel 5252243
+ 972-3-5444871
Media(at)sqreamtech(dot)com