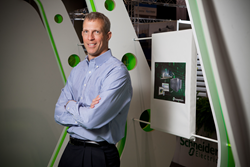 White Paper 171 describes three fundamental approaches to meeting the new requirement for data centre capacity: upgrade, new build-out, or outsource to a co-location provider.
London, United Kingdom (PRWEB UK) 26 March 2014
"When a business identifies the need for new IT equipment, thought must be put into where that IT equipment is going to reside," says Kevin Brown, VP Data Center Solutions Offer at Schneider Electric and co-author of a new white paper "Considerations for Owning versus Outsourcing Data Center Physical Infrastructure".
For existing data centres with available power, cooling, and space capacity, the decision is often an obvious one, but when a data centre is at or near full capacity, a decision must be made as to where the additional IT equipment is going to be accommodated. According to authors Brown and Wendy Torell, there are three fundamental approaches to meeting the new capacity requirement: upgrade, new build-out, or outsource to a co-location provider.
Upgrade Physical Infrastructure
Depending on the capabilities of an existing data centre, upgrading the facility may be sufficient to meet new IT requirements. The level of disruption, cost, and capacity gain depends largely on the scope of the upgrade project, which may include anything from implementing simple air flow management practices like adding blanking panels, to adding a high-density pod to increase power, cooling, and/or rack capacity in a low-density data centre. An "at a view" table summarises the types of upgrades that are assessed and contrasted to outsourcing in the paper.
Build a New Data Centre
Increasing levels of standardisation, modularity, and data centre infrastructure management (DCIM) software are all playing an important role in simplifying the way facilities deployed and operated. These technologies and approaches result in more integrated power and cooling infrastructure, significantly impacting implementation time, cost, efficiency, and predictability.
For example, building a data centre with scalable, pre-assembled, and integrated facility power and cooling modules may provide TCO savings up to 30% compared to traditional, built-out data centre power and cooling infrastructure. When evaluating the costs of building vs. outsourcing data centre physical infrastructure, prefabricated, modular data centre approaches should be considered.
Move to Co-location
Co-location has been of growing interest due primarily to the fast deployment capability, and the providers' core expertise in operating data centres which leads to a secure, highly available space with economies of scale that can help keep costs competitive. Outsourcing to the Public Cloud is a further extension of this, where not only the physical infrastructure is outsourced, but also the software (SaaS), the IT infrastructure (IaaS), and/or the platform (PaaS).
White Paper 171: Considerations for Owning versus Outsourcing Data Center Physical Infrastructure
The decision between the three approaches is based on financial savings, sensitivity to cash flow, and other key strategic factors. The former two categories, cost and cash flow, are quantitative, while the third, strategic factors, consists of common business preferences and constraints that affect the decision qualitatively. Some of the strategic factors may eliminate certain alternatives altogether, while other factors can heavily influence the decision, depending on the business objectives and priorities of the decision maker(s).
The 10-year TCO may favour upgrading or building over outsourcing, however, White Paper 171 demonstrates that the economics could be overwhelmed by a business' sensitivity to cash flow, cash cross-over point, deployment timeframe, data centre life expectancy, regulatory requirements, and other strategic factors. The new paper, which is available for free download, discusses how to assess these key factors to help make a sound decision.
White Paper 171 is available immediately for free download from - http://www.apc.com/whitepaper/?wp=171
==Ends==
About Schneider Electric
As a global specialist in energy management with operations in more than 100 countries, Schneider Electric offers integrated solutions across multiple market segments, including leadership positions in Utilities & Infrastructure, Industries & Machines Manufacturers, Non-residential Building, Data Centres & Networks and in Residential. Focused on making energy safe, reliable, efficient, productive and green, the Group's 150,000 plus employees achieved sales of 24 billion euros in 2013, through an active commitment to help individuals and organizations make the most of their energy.
http://www.schneider-electric.com/gb
Press Contact:
Schneider Electric
Lavina Dsouza
Phone: + 44 7887 560218
Lavina.dsouza(at)schneider-electric(dot)com
Press Contact:
Spa Communications
Damien Wells
Phone: +44 7900 302102
dwells(at)spacomms(dot)co.uk