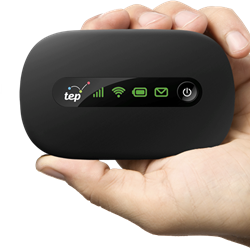 Once abroad, a simple press of the "on" button provides a mobile and personal Internet connection.
(PRWEB UK) 27 March 2014
These days, staying connected to the Internet while abroad is an essential component to any international trip for many travelers. People want to be able to use smartphones and laptops like they do at home but don't want to spend a fortune on data roaming fees. There are a few options out there, but none quite like the Tep Wireless pocket wifi.
Here's the scoop:
A customer places an order for the pocket wifi and it's delivered to his or her door a few days before their trip. Once abroad, a simple press of the "on" button provides a mobile and personal Internet connection that allows up to 5 Wi-Fi enabled devices (smartphones, tablets, laptops, etc.) to connect all at the same time.
Once the customer returns home, the Tep pocket wifi goes back in the post. It comes with a pre-paid return label, so there's no need to fuss about with shipping. Boom, super easy.
The service has recently expanded to Hong Kong, Indonesia, Japan, Macau, Sri Lanka, Austria, Denmark, & Sweden - and now has coverage in countries across 5 of the world's continents. Many cross-border rentals are also available for those multi-destination trips.
The device connection is WPA encrypted and runs on a private and secure IP address, so customers will always have a protected connection. Take Turkey for example; users will still be able to use Twitter and overcome any ban on the Internet.
Prices start at £4.50 per day, which compared to most network carriers can save customers up to 95% on your phone bill. Tep Wireless offers a dedicated customer support team as well as a 100% satisfaction guarantee.
On the back of Tep Wireless' coverage expansion, many travel bloggers have started to take notice of the service. Here's what they have to say:
1) The Expert Vagabond
2) Pommie Travels
3) Too Many Adapters
4) Sonia Gil
5) The Blonde Abroad
More information is available on the Tep Wireless website http://www.tepwireless.com.